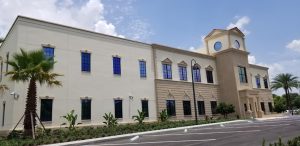 Designed by Gator Sktch Architects, the Tavares Public Safety Complex in Florida is now open. The facility houses the city's police, fire, and emergency operations center (EOC) under one roof in a state-of-the-art complex.
The two story, 3579-m2 (38,527-sf) facility is designed under the Federal Emergency Management Agency's (FEMA's) essential facility requirements (Risk Category IV) and built to remain operable during emergency situations.
Windows were installed with framing and glazing designed to meet FEMA P-361, Safe Rooms for Tornadoes and Hurricanes, and to withstand 290-km/h (180-mph) winds with flying debris impact testing of a 7 kg (15 lb) 51 x 102 mm (2 x 4 in.) traveling at 161 km/h (100-mph). The strength of the windows is accomplished utilizing laminated glazing and 13-mm (½-in.) polycarbonate.
"The windows are a significant part of the project," says Richard Keith, fire chief. "During emergencies, we will be protected by the enhanced glazing. For the rest of the time, those same windows allow natural light to flow into the buildings, creating a welcoming environment for our staff and citizens."
The Tavares Public Safety Complex is anchored by the police department at one end and a dedicated fire station at the other end. The complex is also designed for use as a storm shelter.