by Steven Saffell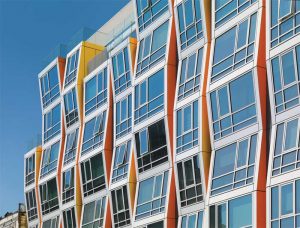 Aluminum's strength-to-weight ratio has long established it as the material of choice for many commercial fenestration systems such as curtain wall assemblies and storefronts, and in any type of building exposed to high wind locations like hurricane zones. However, durability is as important an attribute as strength. Given that aluminum is susceptible to corrosion, especially on the seacoast, coatings and finishes assume major importance.
Understanding corrosion
Coastal areas are highly desirable venues for homes, as evidenced by the increase in shoreline population over the recent years, spurring similar commercial development. However, coastal locations feature salt air, encouraging damages and unsightly corrosion of aluminum fenestration framing components.
Coastal sites are not the only corrosion danger zones. Buildings located inland in cold climates may also need protection for aluminum components installed near sidewalks and roads where a large quantity of salt is used for de-icing in the winter. These chemicals can be vaporized into the air by passing vehicles and winds, creating a mist that attack aluminum and its coating when allowed to settle and remain on the surface.
Several forms of corrosion can occur, but the most common one associated with aluminum building components in coastal locations is galvanic corrosion. It occurs when there is contact between two dissimilar metals in the presence of an electrolyte—a water solution conducting an electric current because it contains chemicals, such as chlorines found in salt. The primary variables affecting corrosion rates are the salt content in the air, the length of time metal surfaces are exposed to moisture, air temperature, and the presence of other atmospheric pollutants.
While heavy rains can dilute the electrolyte and provide a washing action to remove harmful deposits, extended dampness—due to small amounts of moisture—can create an aggressive environment when combined with corrosive deposits. Also, corrosion accelerates with increasing temperatures, especially in areas with high humidity.
Additionally, the configuration and machining of the products may also affect corrosion. Machined holes and cut ends form a protective layer of aluminum oxide. This oxide may be susceptible to attack from strong cleaners or heavy salt deposits. Blowing sand can collect in certain joints or seams, eventually eroding the finish. Component shapes may promote the ponding of rainwater. Finally, if weep holes in fenestration framing are not large enough or not properly maintained, they can become plugged by salt deposits.
Filiform corrosion is another form of corrosion particularly affecting coated aluminum. Corrosion will infiltrate the space between the metal and its coating, and slowly expand into fine 'spider web' outgrowths, occasionally covering an extensive area and causing severe and unsightly damage. Various factors encourage filiform corrosion, such as irregularities of the coating in the form of small scratches, pockmarks, depressions, and impurities, or cut edges as caused during fabrication of a fenestration unit. Filiform corrosion is aided by increased humidity and the presence of aforementioned salts.
The American Architectural Manufacturers Association (AAMA) is working to meet the demand expressed by some specifiers and architects for a holistic description of what constitutes a corrosive environment and to better address filiform corrosion. It is also researching the viability of referencing the International Organization for Standardization (ISO) 9223, Corrosion of metals and alloys–Corrosivity of atmospheres–Classification, determination and estimation, in the next updated editions of its aluminum finishes standards. ISO 9223 defines six corrosive environments and lists them from very low (C1) to extreme (CX) in their ability to encourage corrosion.
C1 corrosive levels would include heated areas with low humidity and pollutant levels such as offices or museums. The environments continue to increase in severity to Low C2, Medium C3, High C4, Very High C5, and finally Extreme CX. A CX environment would typically have near-permanent condensation levels and high in pollutants. An example of this could be an unventilated chemical storage room for a pool in a tropical environment.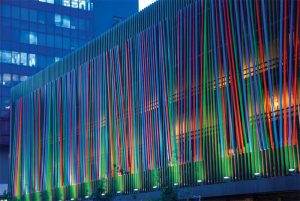 Preventing corrosion
As a defensive measure, architectural aluminum should be appropriately coated, consisting of pretreatment followed by a primer and, ultimately, a high-performance fluoropolymer paint or anodized finish. When installed, aluminum components should be isolated from other metals with nonabsorbent, nonconductive polymer sleeves and washers.
Pretreatment
As the most crucial first line of defense against paint failure on aluminum, pretreatment determines the durability and longevity of the end product. This involves the removal of dust, grease, and any other foreign particles using chemical and mechanical methods, ensuring the surface is clean for enhanced coating adhesion and to prevent flaking.
Perhaps the most effective pretreatment for aluminum architectural products is a chrome phosphate conversion coating. It is highly corrosion-resistant and provides excellent coating adhesion. Application of these coatings conforms to Type B, Method 5 of ASTM D1730-09 (reapproved 2014), Standard Practices for Preparation of Aluminum and Aluminum-Alloy Surfaces for Painting. To meet the most rigorous industry specifications, a commonly used 70-percent polyvinylidene fluoride (PVDF) coating is subject to rigorous performance testing, including more than 4000 hours of salt spray exposure, and heat-and humidity-resistance requirements.
The typical process for chrome phosphate pretreatment involves subjecting the part to a multistage immersion or spraying process. The first stage cleans the aluminum to remove soils, oils, and grease, as well as metal oxides. Stage two is a clean-water rinse. This is followed by the application of an amorphous chromium phosphate coating, applied in a uniform coating greater than 40 mg per 0.093 m2 (0.0014 oz per sf) according to ASTM B449, Standard Practice for Chromate Treatments on Aluminum. Stages four and five focus on rinsing. Types of pretreatment processes other than chrome phosphate are:
polymer with zirconium and titanium (dried-in-place [DIP]);
polymer with zirconium and low fluoride (DIP);
polymer with zirconium and high fluoride (DIP);
high zirconium and low titanium (rinsable);
low zirconium and high titanium (rinsable);
zirconium, titanium, and silane (rinsable); and
silane only (rinsable).