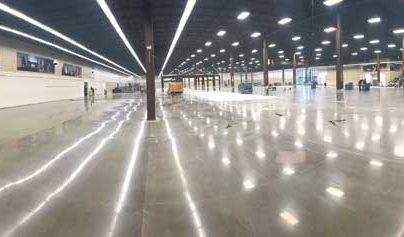 By Chris Bennett, iSCS, CDT
In the world of architectural exposed concrete floors, few considerations are more important than coefficient of friction (COF). French-American architect Paul Philippe Cret (1876-1945) once asked, "Of the many doorways one passes, most are well enough built—but which ones are worth a second look?" His implication was not to forget beauty in the pursuit of function. However, the concrete floor industry has suffered from an almost antithetical approach in which the floors are beautiful, but answers to questions surrounding their prime function—a safe walking surface—have been harder to define.
Specifier and architect George Hauner (Grimshaw Architects) believes "the average client does not understand how to apply COF to floor finishes." Competing narratives from manufacturers and trade organizations have also contributed to the complexity of attempting to quantify 'polished' concrete flooring. Slip and fall cases are expected to rise as the baby boomer generation (more than 46 million people) become the elders in the society. One needs to do better to take care of the people using the floors one creates. The first step in building a safe floor is knowing how to describe and identify benchmarks for safety in the construction documents.
With the amount of legal and medical concerns facing the owner-group, demand for building and maintaining safe spaces has never been more important. According to architect Winnie Law, senior associate at Gensler, "A safe environment is one of the most fundamental design criteria in creating useful spaces and COF is always part of that equation."
Cost of slips and falls
The reasons why design and construction professionals place such an emphasis on slip and fall safety are numerous and speak for themselves. According to Occupational Safety and Health Administration (OSHA), slips, trips, and falls account for 15 percent of all accidental deaths, second only to auto accidents. Falls account for more than 8 million hospital emergency room visits, representing the leading cause of visits. (This is according to a study by National Floor Safety Institute [NFSI].) An ITT-Hartford Insurance Company study revealed worker compensation from falls account for 16 percent of all claims and is one of the primary causes of those lost work periods exceeding a 31-day timeframe. The costs in litigation, settlements, and associated medical costs are also staggering. According to the 2003 edition of National Safety Council's (NSC's) Injury Facts, annual compensation and medical costs that are associated with employee slip/fall accidents reach approximately $70 billion. Nearly 85 percent of worker's compensation claims are attributed to employees slipping on slick floors. (For more information, read the fifth edition of the Industrial Safety and Occupational Health Markets, published by IBISWorld in November 2016. Visit www.ibisworld.com/industry-trends/specialized-market-research-reports/life-sciences/wellness-services/occupational-health-workplace-safety-services.html.) Compounding the problem are fraudulent cases facility owners and insurance groups face on a daily basis. The National Insurance Crime Bureau (NICB) found a 57 percent increase in and fall fraud between 2008 and 2010 with the average liability award for injury, according to National Floor Safety Institute (NFSI), running from $60,000 to $100,000 per claim. These are resources not being used on people who may truly need help because owners are forced to allocate resources to this issue. This places extra pressure on the project team to create exposed concrete floors with quantifiable finishes.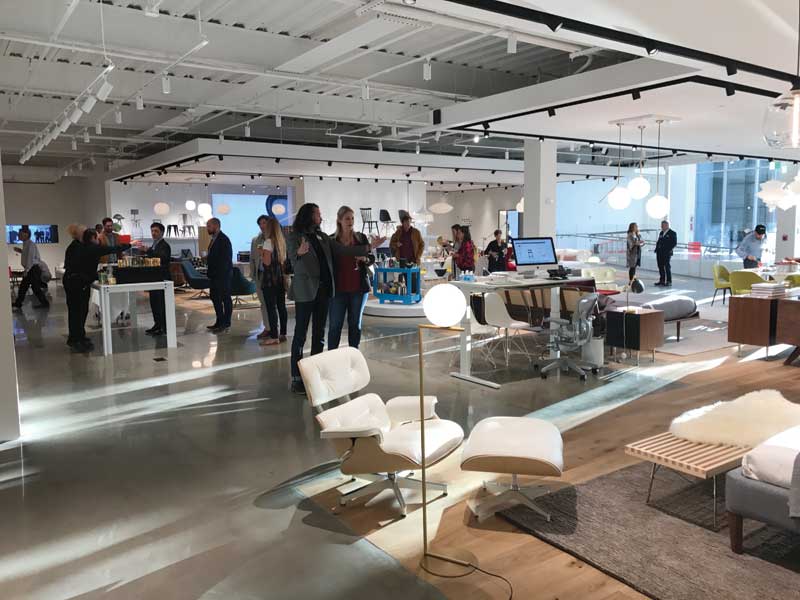 Floor safety tests
Businesses can protect themselves from some level of fraud with appropriate insurance and one can take care of medical costs when truly needed, but these steps only treat symptoms. These do not address how to test for floor safety or how to create a safe concrete floor finish in the first place. So how does one test properly for COF? What items can be included in the construction documents to ensure proper installation and testing take place? Some of the best ways to measure initial COF for exposed concrete surfaces are with ANSI/NFSI B101.3, Wet Dynamic COF Standard, or the older ASTM E303-93 Standard Test Method for Measuring Surface Frictional Properties Using the British Pendulum Tester.
The scope of the ANSI/NFSI B101.3 includes test methods and procedures used for field-testing to measure the wet dynamic coefficient of friction (WDCOF). It is based on the European standard DIN 51131, Testing of Floor Coverings–Determination of the Anti-slip Property–Method For Measurement of the Sliding Friction Coefficient, and therefore, is easy to use in North America as well as overseas. The British pendulum method is perhaps the most widely used globally and has a long history of use and supporting data.
Architect and specifier Vivian E. Volz, RA, CSI, CCS, AIA, LEED AP (VVAS), prefers the ANSI B101.3 test.
"When it comes to protecting the people that use our spaces, I am a lot more confident in a dynamic test like B101.3, because slips and falls happen when people are moving, not when they're standing still. There is no reason to specify a static test anymore: it proves nothing about the safety or accessibility of a floor. DCOF testing is what we should require to get floors right," she states.