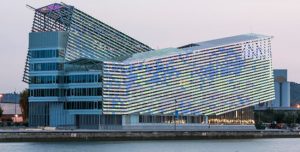 The Passive House Institute in Darmstadt, Germany, has announced the Passive House Award 2020 to reward pioneering projects in the field of energy-efficient construction. A special focus of the competition will be on integrated renewable energy supply.
"With the Passive House Award we wish to draw attention to the fact Passive House buildings actively contribute to climate protection and that these are sophisticatedly designed projects. That is what we want to honor architects for," said Wolfgang Feist, founder of the Passive House Institute.
Passive House and low-energy buildings and structures that have been retrofitted to the EnerPHit standard can be submitted, regardless of the use, as long as they are Passive House certified. Large developments and districts are also eligible, even if they have not yet been completed. A prerequisite for large developments and districts is that at least one of the buildings is already certified. Generally, buildings which have already received an award in earlier architecture competitions of the Passive House Institute are excluded from participation in this award.
Among other things, the jury will consider the design, cost efficiency, and energy supply of the buildings.
Entries can be submitted until June 1. The award ceremony will be held at the 24th International Passive House conference on September 20 and 21 in Berlin. Click here for more information.