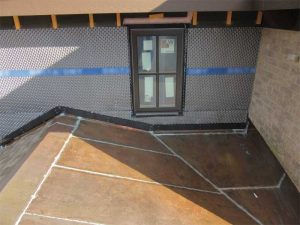 Vapor diffusion is a slow process, particularly when low-permeance materials are used within the wall assembly. Evaporation or desorption can only occur when moisture is able to get to the surface of the material, often only at the cladding or interior surface, and removed by the flow of air.
According to a study conducted by Dr. Achilles Karagiozis and Hartwig M. Kuenzel, published by the Journal of ASTM International, on the effects
of air cavity convection and wetting and drying behavior on building envelopes, a well-ventilated exterior cladding also negated the impact of solar-driven moisture transport for all International Energy Conservation Code (IECC) climate zones.
Allowing evaporation or desorption to occur at layers within the wall assembly and removing the excess moisture by ventilation to the exterior provides an effective means to remove additional moisture directly from sensitive materials and improve the drying potential of wall assemblies. This practice is an extremely valid method to create moisture-resilient construction.
Energy efficiency
The use of a rainscreen system does not just decrease expenses over time by protecting the building from the damages of uncontrolled moisture-causing mold or mildew, but can also result in immediate cost savings through increased energy efficiency. The outer layer protects against atmospheric effects, avoiding humidity and temperature drops, and the air cavity of the system provides the building construction envelope with a more stable temperature. This thermal isolation can reduce energy consumption by 30 to 40 percent.
When it is hot outside, the rainscreen acts as a buffer zone that cools off the air, thus reducing thermal bridging and allowing air exchange behind the cladding as the warm air rises to the top, replaced by cooler, drier air at the bottom. The same effect works in reverse during cold weather—the ventilation manages both heat gain and heat loss during all seasons.
Thermal conductivity is the ability of materials to transmit energy, heat, or cold. The best-designed rainscreen systems have as little thermal conductivity as possible to minimize the thermal bridging of energy between the structure and the outer layer of siding.
Standardizing rainscreens
While common in Europe and Canada, rainscreens are only now beginning to make inroads into the American construction scene. In 2020, a diverse community of industry professionals passionate about supporting performance-driven rainscreen assemblies joined forces to create the Rainscreen Association in North America (RAiNA).
With airtightness and insulation building codes becoming more prominent across North America, it is more important than ever to include rainscreens, particularly in coastal areas with high precipitation. However, whether or not the code requires a rainscreen, it is a better way to detail the exterior cladding of buildings. After all, moisture problems correlating to incorrect cladding installation details have been discovered even in dry climates.
These systems offer exciting solutions and opportunities to architects and contractors who are interested in not only solving moisture penetration, but also improving wall performance.