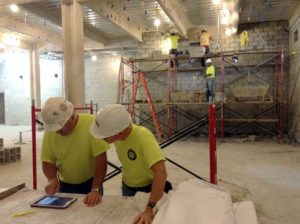 Building information modeling (BIM) is changing the way construction projects are both designed and delivered, offering challenge and opportunity for stakeholders. This interoperability opens up new worlds for alternative project delivery and provides the ability to support masonry design earlier in the project than ever before.
With design-build and various types of integrated project delivery (IPD) systems entering the marketplace in greater numbers, the unit-masonry industry is already looking ahead with its BIM for Masonry (BIM-M) initiative. In 2012, a coalition of associations, companies, and individuals met at Georgia Institute of Technology to work out the initial "Roadmap for BIM-M."
The initiative's first project—to provide a unit masonry database for developers of BIM software—is well underway. Brick, concrete masonry unit (CMU), and cast-stone manufacturers are sharing data on unit shapes, sizes, textures/finishes, and material properties, including weight, thermal properties, and sustainability-related data such as location of manufacture and recycled content. This way, designers can easily find the exact units for a specific project need. Data also assists with design priorities in modular construction, allowing designers to minimize masonry cuts and partial units—this keeps cost to a minimum and aesthetic to a maximum.
What other advantages does BIM offer, from efficiencies to sequencing with other trades? For more on this topic (and other Division 04-related stories), download the free Beyond Bricks & Mortar: A Guide to Masonry e-book at http://www.constructionspecifier.com/hb-beyond-bricks-and-mortar-ebook.