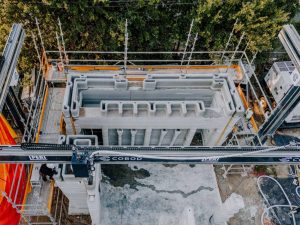 A team of design researchers and building industry partners are building a house through a hybridized construction of concrete walls combined with wood framing, aiming for the increased adoption of such construction in the multifamily housing and mixed-use sectors in the U.S., where framing is the one of the most common construction techniques.
The project is the culmination of a two-year collaborative effort, spearheaded by architectural designers and assistant professors at the College of Architecture, Art, and Planning at Cornell University Leslie Lok and Sasa Zivkovic, also principals of the experimental design and research studio HANNAH; along with PERI 3D Construction, an international provider of 3D construction printing; and CIVE, a Houston-based engineering contractor.
Using the industrial-use COBOD BOD2 gantry printer, the house covering 371-m2 (4000-sf), located in Houston, Texas, takes advantage of the printer's modularity for its design layout. The designers have conceptualized the building design of one of the first multi-story printed structures in the United States as a series of printed cores containing functional spaces and stairs. The spatial cores are connected by wood framing to produce an architectural alternation of concrete and framed interiors.