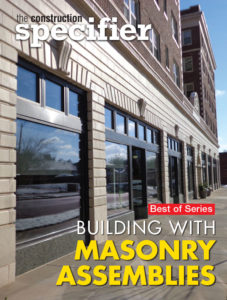 Designers are creating new and exciting contemporary masonry designs that demand clean, smooth wall plane elevations. One challenge that can interfere with unobstructed aesthetics is the visual effects of masonry drip-edge flashing. This potential obstacle has also carried through to traditional masonry design. Designers and specifiers can find it difficult to balance design and functional water management requirements.
New masonry flashing details, materials, and moisture control systems have enabled designers to provide water management solutions without sacrificing aesthetics. From the pages of The Construction Specifier, one of the articles in the newest sponsored e-book will provide details, specifications, and explanations for a variety of flashing details that can enable code-compliant water management flashing systems without aesthetic interference.
To download the "Building with Masonry Assemblies" e-book in two different formats—pdf or digital edition—visit https://www.constructionspecifier.com/ebook/hb-building-with-masonry-assemblies-ebook.