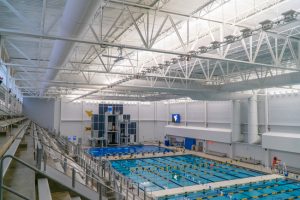 The $48-million Aquatic Center at Mylan Park (ACMP), Morgantown, West Virginia, is a state-of-the-art indoor pool complex that stands as one of the country's most advanced natatorium designs. The designers substituted metal duct with fabric to help cut HVAC material and labor costs and fast-track the project.
The design team for the 8361-m2 (90,000-sf) complex was led by Paradigm Architecture and general contractor March-Westin Co., who called on design/build mechanical contractor, A. Durer Inc. (ADI).
The original design's polyvinyl chloride (PVC)-coated, single-wall spiral metal duct was substituted with fabric duct, which reduced costs by $55,000, according to Chris Myers, ADI general manager. Another critical value-engineering strategy was switching the original mechanical design from split-system indoor pool dehumidifiers to semi-custom packaged systems, which saved in excess of $550,000 in equipment and piping costs.
Fabric duct also decreased labor costs and reduced trade stacking since it installs up to 60 percent faster than metal duct. Further, the fast-tracking also allowed other trades to complete their work sooner.
The fabric duct's single-point aluminum suspension system serving the Olympic-sized competition pool and six-lane diving well was installed in just 10 days. Afterward, only five days were needed to hang the 980 linear feet of fabric ductwork, consisting of 2438-mm (96-in.) diameter headers and branches ranging from 1219 to 1422-mm (48 to 56-in.) diameter. The 567,812-L (150,000-gal) community pool's suspension system and 360 linear feet of perimeter air dispersion was installed in less than a week.
The white fabric duct also eliminated additional costs for field-applied, anti-corrosion coatings and paint to match the interior white décor scheme.
Condensation is always a concern in a pool environment. However, the fabric duct's engineered permeability allows airflow through the surface, thereby preventing condensation.
Fabric duct's design flexibility helped solve the challenge of fitting the originally specified large diameter spiral ductwork through truss openings to create clean sightlines for spectators. ADI designed a center-positioned, 2438-mm diameter trunk line to run between the trusses with smaller diameter branches to fit through the truss supports. The result was an aesthetically pleasing layout with minimal cost changes compared to spiral ductwork systems.
The value-engineered final mechanical design features two 150-ton, 31-m3/s (65,000-cfm) ground-mounted dehumidifiers that remove up to 599 kg (1320 lb) of moisture/hr from the competitive pool area, and a 90-ton, 14-m3/s (30,000-cfm) rooftop dehumidifier for the community pool. All three dehumidifiers recover energy with hot gas reheat coils energized during the dehumidification cycles. They also recover return air energy to pre-condition outdoor air via a sensible energy recovery wheel.
Superior indoor air quality (IAQ) that surpasses ASHRAE 62.1, Ventilation for Acceptable Indoor Air Quality, was an important design goal. ACMP passed its first major IAQ test last February.