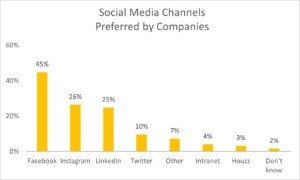 New research indicated that Facebook reigns as the most used social media platform by building and construction firms. The research was conducted by Accountability Information Management Inc. (AIM), a B2B research company.
The top social media sites have seen plenty of movement in the last few years. The use of these social media channels became even more critical during the pandemic. Facebook might still be dominant with companies/firms in the building construction industry, but the top three preferred channels can vary based on the type of work they do. For example, AIM research indicates architects use Facebook the most, followed by Instagram and LinkedIn.
The research also revealed 82 percent of companies involved in the commercial or residential building construction market are actively using social media to promote, showcase, or support their company or firm.
During the pandemic, many companies required employees to work from home or on staggered work schedules, which prompted the boost to social media use and elevated the importance of its use to maintain a company's success.
"Professionals turned to these channels even more than they did pre-COVID-19," says Patty Fleider director of research at AIM. "Even though this research was conducted in January 2021, when COVID-19 was actively disrupting the world and vaccines were just ramping up, it shows it is important for product manufacturers to be active and maintain a presence in all the main social media channels."
For this study, AIM surveyed architects, interior designers, engineers, and facility managers. The survey was conducted online in January 2021. Overall response was 153 completed surveys.