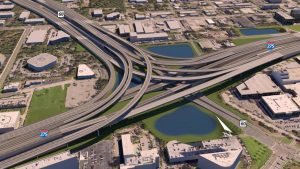 The Lane Construction Corporation, the U.S. subsidiary of the Webuild Group, and its joint-venture (JV) partner Superior Construction, are the preferred team to modernize the Westshore Interchange (I-275/SR 60) in Tampa, Florida.
The project is a multi-year effort, with its combined value placed to be up to $1 billion. The project will increase capacity along the east end of the Howard Frankland Bridge to Lois Avenue, and north of State Road 60, extending to State Road 589 (Veterans Expressway). It will include general use and tolled express lanes, as well as direct ramps to Tampa International Airport (TPA).
The aim is to improve the safety and ease the flow of traffic for more than 400,000 daily vehicles which are anticipated by 2045. The planning phase is to be completed by November 2023, with construction—to be awarded as a separate contract—set to begin by spring 2024.
Tampa's Westshore Interchange is the point where the I-275, SR 60 and Veterans Expressway converge. The JV, in which Lane has a 50 percent stake, has already signed a $10 million contract with the Florida Department of Transportation (FDOT) for the planning phase of the project. Lane and Superior will develop a multi-year program to rebuild one of the city's busiest interchanges, improving safety and increasing capacity to ease traffic flow.
The Westshore district is the largest central business district in Florida, with approximately 4,000 businesses, two shopping centers, 40 hotels, and about 250 restaurants. It is also a few miles from downtown Tampa and the Raymond James Stadium. The district's central location, its growing residential population and increased traffic to and from the airport, highlight the urgency of the strategic project.