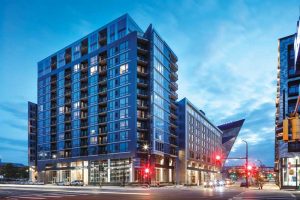 Fiberglass has existed since engineer and inventor Games Slayter of the Owens-Illinois Glass Company patented "glass wool" for thermal building insulation in 1933 with full commercial production going to market in 1936. Many are familiar with fiberglass being used in cars and boats, but the manufacturing process varies significantly. Cars and boats use a conventional 'chopped strand mat' process in which fibers are laid randomly across each other into a mold and held together by a binder or 'gel coat.' Fiberglass has evolved over the years from being used in boats and bathtubs to being trusted by the National Aeronautics and Space Administration (NASA) for use on spacecraft.
As a result of its impressive weight-to-strength ratio, fiberglass is structurally sound with a natural thermal break, making it a perfect material for windows and doors. Fiberglass is an inert, stable material and does not off-gas material like polyvinyl chloride (PVC), making it better for the environment than other options.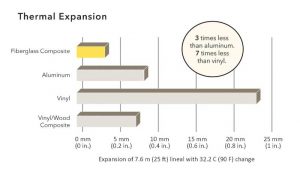 Fiberglass windows are generally made through a pultruding process combining roving and matting, followed by an injection of resin, all while being pulled through a die to create a shape or profile. Pultrusion patents were introduced in 1946 and have been commercially produced since 1952. The thermoset process produces a material that will not break down when exposed to elements or lose its shape in extreme hot and cold temperatures. Once it is molded and cured by heat, the molecules crosslink and it becomes a solid, irreversible substrate. High ambient temperatures will not melt, warp, or become misshapen like some thermoplastics.
Finishes
Some fiberglass manufacturers may offer field-finishing; however, pultrusions are generally factory finished by powder coating, painting, or a cap stock covering in a variety of colors to provide a long-term, durable finish. Most of these finishes are maintenance-free and resistant to corrosion, blistering, peeling, chipping, and chalking for lasting durability and aesthetics.
Coatings for thermoset fiberglass profiles use the American Architectural Manufacturers Association (AAMA) 623, 624, 625 series for evaluating color uniformity, specular gloss retention, impact resistance, color fading, and other attributes related to weathering and aesthetics:
AAMA 623: Performance Requirements and Test Procedures for Organic Coatings on Fiber Reinforced Thermoset Profiles;
AAMA 624: Performance Requirements and Test Procedures for High Performance Organic Coatings on Fiber Reinforced Thermoset Profiles; and
AAMA 625: Performance Requirements and Test Procedures for Superior Performance.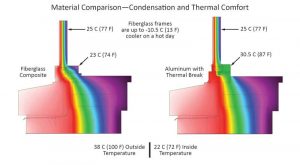 Organic coatings on fiber reinforced thermoset profiles
These AAMA standards define the capabilities of the finish and can be viewed as good-better-best from a performance perspective. Typical fiberglass finishes meet the AAMA 623 or 624 standards and, as it shifts from 623 to 624, the performance requirements and longevity expectations of the coating increase. The Fiberglass Material Council (FMC) has continued to evaluate and update the specifications—much of which is based on variances resulting from different coating colors. The goal is to keep specifications up to date to ensure the industry stays on the cutting edge.