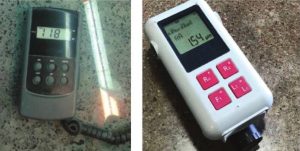 Nano silica densifiers are the smallest category of silica densifiers in which the silica size must be below 100 nanometers, allowing for better capillary penetration. When applied, billions of nano-scaled silica flood the substrate to fill the larger micro-sized pores and channels, creating new C-S-H that bonds not only to existing C-S-H, but also to itself and other silica to reduce porosity and voids on the surface of concrete. Nanoengineering-based technologies are not only small, but also offer advantages with reactive surface areas, genomic code (stacking shape), and other features that industry professionals are beginning to understand, thanks to advances in nanoindentation technologies.
Polished or refined concrete
Polished concrete is the act of mechanically processing a floor to achieve a concrete surface with high durability and physical resistance to chemical and stain attacks within an aesthetic framework. Benchmarks for polished concrete are quantified by readings taken from the concrete microsurface texture. Microsurface benchmarks are measured in microinches (μin) or micrometres (μm) with the American Society of Mechanical Engineers (ASME) B46.1-2009 (R2002), Surface Texture (Surface Roughness, Waviness, and Lay), available as an easy way to test and measure average roughness (Ra) on a surface. A microinch is equivalent to 25.4 nanometers.
Polished concrete does not rely on application of a resinous coating or topical sealers to achieve performance benchmarks. Full refinement and consistent Ra is easy to achieve with polishing systems. Ra can help ensure voids are completely being filled by the densifier, and the floor is physically refined. Ra is inconsistent with shiny coatings applications that mimic (or even advertise as) polished concrete finishes because the surface preparation involved with those systems create micro fractures while creating a profile for a topical coating.
Densifiers should not be used to coat the floor when polishing, but rather as a part of the physical processing of the new floor surface to aid in greater C-S-H formation, thereby reducing permeability and increasing physical resilience. The processing or folding of the slab back into its own matrix with a densifier is a wet process where final levels of refinement can be performed without creating slurry. Gloss and DOI readings may also be taken from a polished concrete floor and can be helpful in selecting a reflective aesthetic, but the latter alone cannot determine if a floor has received a polishing process. It is important to ensure the selected polishing systems can achieve a consistent and repeatable surface micro texture (Ra) as well as high-traction DCOF ratings, such as from the American National Standards Institute (ANSI) B101.3, Test Method for Measuring Wet DCOF of Common Hard-surface Floor Materials, and to avoid coatings that have a similar appearance.
A refined and polished concrete floor brings many resilient performance benefits, but it can be susceptible to certain chemical attacks. If one wanted an exposed concrete floor finish in a water treatment plant's fluoride tank room, a coating is likely the best finish. However, for heavy floor traffic, long-term durability, and a more permanent solution in void mitigation in commercial and industrial settings, polished concrete is likely the preferred option.
The big picture
For a concrete floor to be as maintenance-friendly as possible and retain its original appearance, it must be non-absorptive to resist moisture, dirt, and movement from volume changes. The process of curing and finishing a slab is key to constructing a dense and durable surface. A facility cannot maintain its clean and healthy status when the floor is dirty or unable to be resilient to abuse.
While each project will be unique, there is often overlap in slab requirements. Floor flatness and levelness (Ff/Fl), once only a factor in logistics and distribution facilities, has become a concern in many other sectors due to the increased use of robots. Durability remains important as it reduces maintenance and replacement costs.
Hitting a curled joint takes its toll on both the equipment and operator. It can slow down material handling as operators reduce speed when approaching floor joints. Wear and tear at these locations is increased. This not only incurs maintenance costs, but also the finished appearances of the repairs are often inconsistent with the rest of the slab.
In the case of food facilities, a durable surface that holds up over time with minimal cracking (a larger void type in the concrete matrix) is critical as it is less likely to create harborage for chemical, biological, physical, or allergenic contaminants. "Joint-less" slabs or those with limited shrinkage can also be helpful in this regard as additional maintenance and work at control and cold joints is not required.