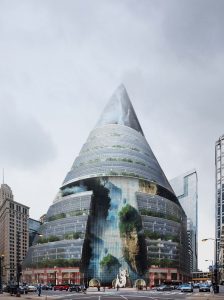 The Chicago Architecture Center (CAC) and the Chicago Architectural Club have announced seven finalists for the architectural design competition calling for new, creative visions for Illinois' Thompson Center designed by Helmut Jahn, built in 1984 and put up for sale in May 2021.
The competition seeks to give the building new life through restorative architecture while preserving its public character. The competition was open to anyone with a vision for the building including students, architects, designers, planners, and artists. The jury reviewed 59 entries from five countries representing work by professional designers and established firms as well as young architects and students.
"The jury's selection of the seven finalists for the 2021 Chicago Prize Competition provide a diverse set of possible uses for a re-imagined space devoted to Chicago's civic ideals," said Elva Rubio, CAC co-president. "The design proposals turn the space into a new civic center with a state-of-the-art glass façade, a mixed-use development with a park on the ground floor, a new Chicago Public School, a hotel and indoor waterpark, an urban farm, an art and civic culture destination with imaginative spaces suspended in the atrium, and a conical skyscraper skinned as a 3D LED screen."
The winning design proposal will be announced Tuesday, September 14 at the opening of a pop-up exhibit featuring the winning and finalists' designs on view at the CAC through October.