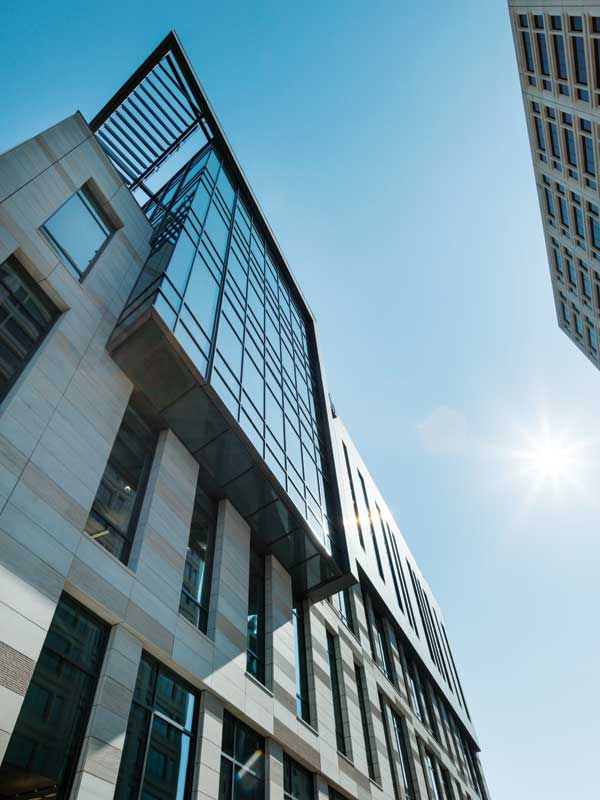 Applications
Building design professionals who specify and work with the color-corrected new versions of fire-protective glass are likely to find most manufacturers have resolved many of the issues previously hindering the acceptance of glass ceramics. Architects and building owners unwilling to compromise on aesthetics such as visual and color clarity may find the latest versions of glass ceramics are the best options when complying with fire-safety codes and desiring open interiors awash with daylight. After all, fire-rated glazing—unlike a concrete wall—can both protect against fires and invite natural light deep into a building.
Transparent glass ceramics are suitable for use in lobbies, retail settings, hospitals, hotels, public safety buildings, research and development sites, or wherever visual acuity through fire-rated glass walls is essential. Improvements in the chemical composition and manufacture of the glass have made it such a close aesthetic match for non-fire-rated glazing systems the two could be specified next to each other if fire safety codes allow. Additionally, the glazing works well in hard-to-light spaces like stairwells and corridors, and on a building's exterior perimeter when a fire-rated glazing system is needed.
When evaluating the benefits of a glass ceramic product, architects, specifiers, façade consultants, and other building design professionals should perform a close visual examination of glass samples or mockup assemblies to determine whether they are close enough to match any standard float glass specified for the same project. Among the most important qualities to consider include:
superior surface quality with parallel glass surfaces;
a minimum amount of distortion;
excellent clarity;
maximum effective daylight transmittance; and
the display of true colors.
Specifiers with particular requirements for fire-rated, design-friendly glazings are advised to work with manufacturers to customize a suitable product.
Conclusion
Fire-rated glass has progressed significantly since being developed in Europe three decades ago. Longstanding aesthetic limitations are no longer a burden to the architect or specifier as novel fire-rated glass ceramics closely rival the visual, color, and reflectivity attributes of fire-rated and non-rated glazing products.
Lindsay Hampton serves as the Keralite product manager and south central regional sales manager for Vetrotech Saint-Gobain North America, a manufacturer of innovative fire-rated glass products. She works within the architectural and glazing communities to advance building safety through fire-rated glass solutions. Hampton can be contacted via email at lindsay.hampton@saint-gobain.com.