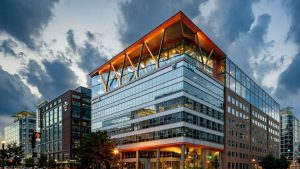 A project at 80 M Street SE (80 M) in Washington, D.C., is the first in the city to employ the sustainable mass timber material in a three-floor expansion atop the existing building, helping keep the building operational during construction and minimizing structural strengthening interventions due to the light weight of the material.
The multidisciplinary firm Arup, providing solutions for the built environment, delivered a full suite of engineering design services for the overbuild project located in Capitol Riverfront district, including structural engineering, MEP engineering, acoustic consulting, and fire and life safety consulting. Notably, Arup worked with developer Columbia and architect Hickok Cole to navigate a code modification process, gaining approval for the exposed mass timber vertical extension from the D.C. code authority.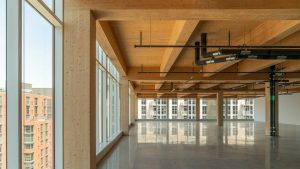 Arup's integrated team of mass timber experts ensured the proposed solutions fulfilled current fire and life safety code requirements and aligned with the standards of the 2021 International Building Code, which allows mass timber buildings of up to 12 stories.
The three light-filled floors on top of the existing 26,570-m2 (286,000-sf) building are comprised of more than 1,180 t (1,300 tons) of mass timber, sourced from forests in the Pacific Northwest and Eastern Canada. The addition was designed to enhance productivity and wellness for the building's occupants, with 4.6-m (15-ft) ceilings, floor-to-ceiling windows, and 279-m2 (3,000-sf) of outdoor amenities.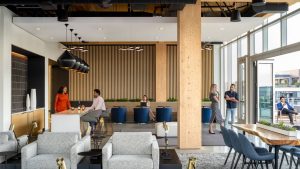 As a renewable material, timber carries a significantly lower carbon footprint than conventional building materials like concrete and steel. The sustainable focus of 80 M extends to the photovoltaic (PV) array on the building's roof. Arup performed a rapid feasibility study and cost benefit analysis to achieve this, revealing the potential for a four-year return on investment. Columbia and Hickok Cole are now pursuing LEED Silver Core and Shell and WELL Building Standard version 2 (WELL v2) certification for the vertical overbuild portion of the building, which already holds ENERGY STAR, Fitwel, and WiredScore Silver certifications.
"As a building material, mass timber offers not only unparalleled sustainability but also incredible beauty, and we are proud to have contributed to a project that showcases its many benefits," said Matt Larson, Arup's project director and Associate Principal. "Our coordination with the DC code authority in developing robust solutions outside of prescriptive requirements for tall timber buildings helped 80 M become the first building in Washington DC to feature exposed timber above 26 m (85 ft) in height," further added Lauren Wingo, Arup's project manager and senior structural engineer.