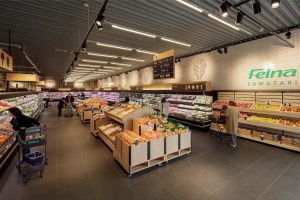 Japanese mega-retailer Felna has just opened its first market location this month.
In addition to the interior and graphic environment, the market also delivers a trading identity and external store branding solution. The redesign will be rolled out across Japan during the coming years.
The backdrop of timber and monochromatic finishes, also seen outside through larger glass openings, showcase the market. Functional new fixtures and lighting systems elevate the curated product offerings, while iconography and a dual-language wayfinding system activate shopper interest using a palette of natural hues in line with the Felna brand.
Another achievement of the redesign is to support Felna's goal of increasing purchases of prepared and semi-prepared foods in the deli and ready-to-eat categories, as well as its Osazai meals, which include hot and cold tapas-style offerings.
An interesting tidbit: Felna and partner Landini Associates accomplished all of this virtually, without the designers ever visiting the client or site in Japan.
"We've accentuated our design with instantly recognizable food icons, the best possible lighting, and a natural, comfortable presentation with prime visibility for Felna's hero departments. Internal wayfinding and customer navigation eases the shopping process, with new department signage and directories creating an atmosphere of comfort, curated selections, and wide-open visibility to abundant freshness," says Ben Goss, design director for graphics with Landini Associates.