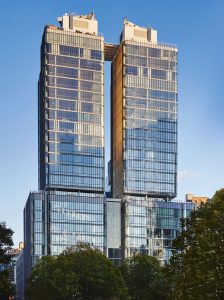 The 565 Broome SoHo project, the first residential building in New York City designed by Pritzker Prize winning architect Renzo Piano, is now complete.
The luxury condominium features 1579 m2 (17,000 sf) of amenities, highlighted by a 28-m (92-ft) tall indoor conservatory with green walls and olive trees.
For 565 Broome SoHo, Renzo Piano set out to create a building that is shaped by light. He designed conjoined glass structures with curved corners, resulting in light-filled residences offering 360-degree views.
A 'low-iron' glass with crystal-like sheen and clarity was selected for the exterior to allow the façade to take on the color of the weather, as well as to create clear views from the interiors.
Renzo Piano Building Workshop (RPBW) and Parisian interior design firm Rena Dumas Architecture Interieure (RDAI) enhanced the open layout of early industrial SoHo lofts by utilizing ultra-transparent glass for the oversized windows and neutral tones to communicate harmony, calm, and expansiveness.
The 565 Broome SoHo building will be the first high-end residential zero waste building in New York City, achieving more than 90 percent diversion of waste from landfills, incinerators, and the environment.