Five big themes to watch out for this year
February 20, 2020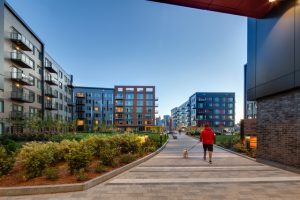 Experts at The Architectural Team[2] (TAT) have announced five projects and trends that will impact U.S. cities this year.
These new and in-process works reveal the power of innovative design solutions to make communities more livable, exciting, and resilient, TAT said.
Here are the five themes that will play out this year and beyond:

1. Keeping neighborhoods accessible
The displacement of long-time residents has emerged as a major concern in growing cities.
"To keep neighborhoods affordable and accessible," says Michael Binette, AIA, NCARB, TAT principal, "we are working with developers, nonprofits, and public officials to expand or redevelop existing affordable and workforce housing developments—adding more residential units while preserving affordability and dramatically enhancing livability."
2. Adaptive reuse, prefab construction help address housing shortages
Faced with persistent housing shortages across the country, architects and developers are responding with solutions that demonstrate the continued value of adaptive reuse, and the benefits of new approaches including prefabricated and modular construction.

3. New residential and mixed-use opportunities transform urban cores
"With new air rights developments, hotel towers, and uniquely positioned residential properties, many urban cores are set for major transformations in 2020, as closely watched and long-awaited projects reach major milestones," says Michael Liu, AIA, NCARB, a principal at TAT.
For example, Fenway Center will soon complete its first phase and its second phase is on track to kick off this year. TAT's design for this 111,484-m2 (1.3 million-sf) air rights complex adds housing, office space, and retail uses while decking over a major highway and reconnecting three neighborhoods with new green space, public art, and pedestrian and transit connections.
4. Smaller cities poised for resurgence
Some smaller cities are on the upswing, for example Sibley Square in Rochester, New York, is a TAT-designed conversion of a 92,903-m2 (1 million-sf) former downtown department store turned into housing, a community marketplace, and high-tech workplace environments. A major indoor market is set to open within the phased project this year.
Other smaller gateway cities like Worcester, Massachusetts, are on the rise too, thanks to projects like Courthouse Lofts, TAT's conversion of the historic Worcester County Courthouse into 117 units of housing. Nearing completion, the property also holds a first-in-the-nation museum celebrating local icon and pioneering African-American cyclist Major Taylor.
5. New waterfront developments boost resiliency, enhance public access
Increasingly vulnerable, flood-prone urban waterfronts remain desirable sites for new residential and mixed-use development. Design teams are taking a holistic approach to these projects, employing hard and soft resolutions to shoreline design, strategic landscaping, and elevated public use areas.
Endnotes:
[Image]: https://www.constructionspecifier.com/wp-content/uploads/2020/02/TAT.jpg
The Architectural Team: https://www.architecturalteam.com/
Source URL: https://www.constructionspecifier.com/five-big-themes-to-watch-out-for-this-year/
---