Standards driving human comfort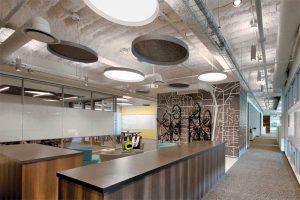 Noise affects occupants in different types of environments in varied ways, but ultimately has negative impacts including productivity loss, lack of focus, and even memory retention. While applications such as concert halls and sound rooms have specific acoustic requirements, most spaces, including commercial offices, schools, and hospitality environments have few strong requirements around RT. However, sound level is an important consideration in all room types when looking to create more human-centric environments and improving occupants' health and well-being.
Global building certifications such as the WELL Building Standard (WELL) and the Leadership in Energy and Environmental Design (LEED) are also increasing the awareness of the importance of human health and well-being in commercial environments. These organizations make recommendations on how to measure and achieve optimal RT, based on the type and size of space and how it is used.
WELL provides arguments supporting the use of acoustic optimization strategies in a built environment to bolster occupant health and well-being. The increased awareness of the importance of acoustic comfort is evidenced through the creation of a specific sound concept in WELL v2 (Feature S04). It contains two parts related to sound absorption. Part 1 relates to meeting the thresholds for RT, making recommendations based on room type and size (Figure 1). Part 2 pertains to implementing sound reducing ceiling solutions, specifically addressing NRC, a measurement of the amount of sound absorbed onto a surface, and ceiling coverage area.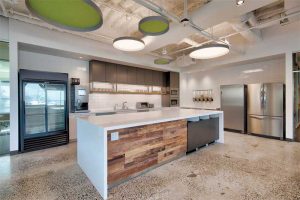 Two of the rating systems under LEED v4, Building Design and Construction (BD+C) and Interior Design and Construction (ID+C), include requirements and credits related to acoustics.
The minimum acoustic performance prerequisite applies to schools under LEED BD+C and addresses HVAC background noise, exterior sounds, and RT. For the latter, it recommends the use of materials with an NRC of 0.7 or higher for a total surface equal to or greater than the total surface area of the ceiling, or that spaces meet the recommended RTs.
The Acoustic Performance Credit under LEED BD+C and ID+C addresses HVAC background noise, RT, and sound transmission, reinforcement, and masking systems. Specific RT requirements are listed for various room types and applications.
These standards have begun to propell change in commercial building design to promote well-being and create more comfortable environments. As manufacturers continue to introduce new products supporting the trend toward healthier workplaces, specifiers must familiarize themselves with the latest innovations and how to use these tools to design interior spaces to maximize occupant comfort.
Strategies for acoustic comfort
Designers have commonly optimized noisy environments with acoustic ceiling tiles (ACTs) or wall panels, often at the detriment of aesthetics. Commercial furniture manufacturers introduced low-profile desks, adding to the reverberation issues in open structures. They also commercialized phone booths and sitting nooks made of acoustical materials to help combat the additional noise problems.
While supportive of employee privacy needs when making phone calls or working as a team, these products alone do not contribute to improving the acoustics of a space. Recently, some architectural luminaire manufacturers have introduced integrated acoustic lighting systems to address acoustics needs as well as illumination requirements.