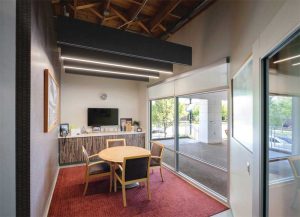 These flexible systems leverage the ceiling plane and often integrate existing building components such as sprinklers or speakers to simplify the specification, sourcing, and installation process. They are typically available in a variety of form factors—linear baffles and cloud systems are the most prevalent. Resolving more than reverberation issues, these systems can deliver optimal light levels and enhance the aesthetics of a space while offering flexibility to meet its budget requirements.
Specifiers have a variety of acoustical treatment options to select from. Therefore, when using the ceiling plane to design for acoustic comfort, it is necessary to first consider the goal of the space and go beyond sound management. Before selecting an acoustic ceiling solution, variables such as design aesthetics, budget, and the incorporation of other building components should be considered.
For applications where it is desirable to hide the open ceiling structure, ACTs or a dense array of an integrated acoustical lighting system (i.e. an illuminated and unlit acoustic baffle used together in a linear or architectural pattern) is suitable. If the intention is to maintain a view to the open ceiling structure or to reduce the budget, the same integrated acoustic lighting system can be optimized using fewer baffles. By varying the height, spacing, orientation, and product type—baffles or clouds, for instance—it is possible to achieve the desired vision and acoustic comfort within the constraints of a budget.
Collaborating for results
Acoustics are becoming a prerequisite when designing open ceiling environments, requiring greater collaboration between architects and acousticians. An integrated acoustic and lighting system offers many advantages from cohesive aesthetics to specification and sourcing ease, not to mention the piece of mind that comes with dealing with one supplier to design and manufacture a unified system with the ability to meet tight tolerances.
Once the acoustic requirements of the space have been established with the help of the acoustician, the architect and the team responsible for specifying building components such as the ceiling should consult with a lighting designer to ensure the selected acoustic ceiling solution meets the lighting requirements of the space. Often, during the design phase, specifiers and consultants work in isolation, leaving the opportunity for a specification to be altered during the bidding process.
As new hybrid products emerge, it becomes imperative specifiers work together with acousticians and other specialists to familiarize themselves with the requirements of the space, such as sound management and illumination levels, especially if the client is striving to meet a global building certification.
For example, an acoustic luminaire and baffle system can cross divisions and sections of a specification. These systems may be listed under both Divisions 9 (Ceilings) and 26 (Electrical) of MasterFormat. To guarantee the acoustic, lighting, aesthetic, and budget needs of a project are met, eliminating communication barriers and building a more collaborative process can create a tighter specification and safeguard the overall design.
Additionally, installers should be included earlier in the process. These integrated systems involve both the electrical and ceiling installers. Therefore, upfront coordination can go a long way toward ensuring a hassel-free process during the construction phase. Streamlining the design-to-installation process is becoming necessary as innovative products and new technologies emerge.
A design trend toward creating more human-centric environments is growing in importance in commercial building design, supported by global building certifications and standards, and the introduction of new products.
A significant and rising requirement for workforce comfort, happiness, and productivity is sound management, especially in open, multifunctional interior spaces. As a new generation that prioritizes human experience enters the workforce, now is the time to pay greater attention to considerations related to human health and well-being by seeking new opportunities, materials, and processes.
Michael McCoy leads the new ventures team at Focal Point, delivering new value to the architecture and design community through innovative products and services. He has spent the past 15 years commercializing novel technologies across a range of industries. He can be reached at michael.mccoy@focalpointlights.com.