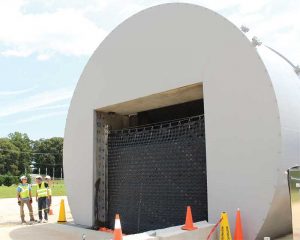 The magazine's series of sponsored e-books continues with an analysis of available flood mitigation strategies—from regulations and floodplain management basics to the role of standards in improving buildings' resiliency in the face of potential disaster.
In addition to the hurricanes and catastrophic floods making national headlines, a damaging flood happens frequently in the United States, caused by heavy rainfall, dam failures, land development runoff, drainage problems, inland remnants of tropical storms, or many other conditions. Flooding is the country's leading cause of deaths related to severe weather. Additionally, almost 40 percent of small businesses never reopen their doors after a flood disaster.
Given the devastating effects, it is time to rethink how we approach the mitigation of flooding's impact.
An article in our newest sponsored e-book examines traditional dry floodproofing challenges with respect to setup efficiency while exploring the benefits of newer 'soft' technologies. It appears along with a trio of other articles from the pages of The Construction Specifier in "A Guide to Moisture Management," a free, downloadable resource. To get your copy in either pdf or digital edition, visit www.constructionspecifier.com/ebook/georgia-pacific-a-guide-to-moisture-management-e-book.