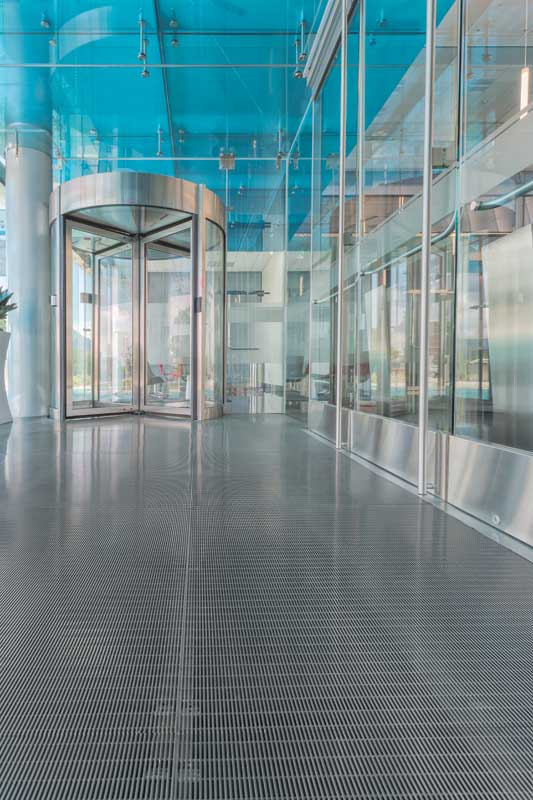 by Wade Brown, CDT, LEED AP
How inviting is a facility's entrance? Many factors play a role in welcoming students, tenants, patients, or guests to a building—flooring at the entrance is an important one in creating a first impression. This means the entrance flooring should be clean, pleasing to the eye, and protects those who walk over it from slipping.
An entrance flooring system is a durable product covering entrances with heavy, consistent foot traffic. They can be installed in commercial buildings such as schools, offices, hospitals, or airports. These systems are located where building users frequently enter and exit and can be made from varying materials, including aluminum, stainless steel, carpeting, or rubber. They sometimes contain panels that lift so trapped dirt and water can be easily removed. These systems are typically installed on a building's ground floor, but they are also successfully employed at heavily-traveled entrances on sky bridges or upper levels.
While it is obvious entrances should have some type of flooring or matting to catch dirt and wipe shoes, choosing the best type of system for a facility can be challenging. Facility managers and building owners have many options when it is time to renovate or build, and it may not be apparent whether carpet tiles or entrance mats are the right choice. Each has its advantages, so it is essential to consider several factors before making an investment.
Carpet tiles versus mats and grids
Carpet tiles have been the go-to choice for facility managers, designers, and project managers for years. These modular pieces comprise nylon or polypropylene carpet affixed to backing material. Traditionally glued to the floor using corner glue tabs or adhesive, some manufacturers offer tiles with a peel-and-stick installation process, which allows maintenance crews to remove and replace individual tiles as they become damaged or worn.
This entrance flooring system is available in a range of options, including economical ones. The cost savings can be attractive in the short term, particularly if a project is on a tight budget. This choice also offers design versatility since manufacturers make tiles in virtually every color and a range of textures to integrate branding elements and create a cohesive environment.
Architectural-grade mats and grids are specifically designed to be installed in a building's entrance. They can comprise aluminum, vinyl, or stainless-steel rails and may contain tread inserts made with heavy-duty material, such as durable carpet, abrasive tape, poured abrasive material, or rubber. As foot traffic passes over the mat system, water and debris fall through the rails into the recess underneath for future cleaning.
The rails and hinges are engineered with a lightweight material that will not produce a rattling noise or disrupt the facility's atmosphere. Manufacturers produce rails in a range of depths. Environments prone to bad weather could have entrance flooring with deeper depths to store more water and debris than typical mats.
Entrance mats and grids are ideal for new construction, but they can also be installed on renovation projects. They can be surface-mounted or recessed flush with the surrounding floor finishes.
Building owners and designers likely have priorities guiding how investment decisions, whether it is a renovation or a new facility. The following checklist helps one make an informed decision.