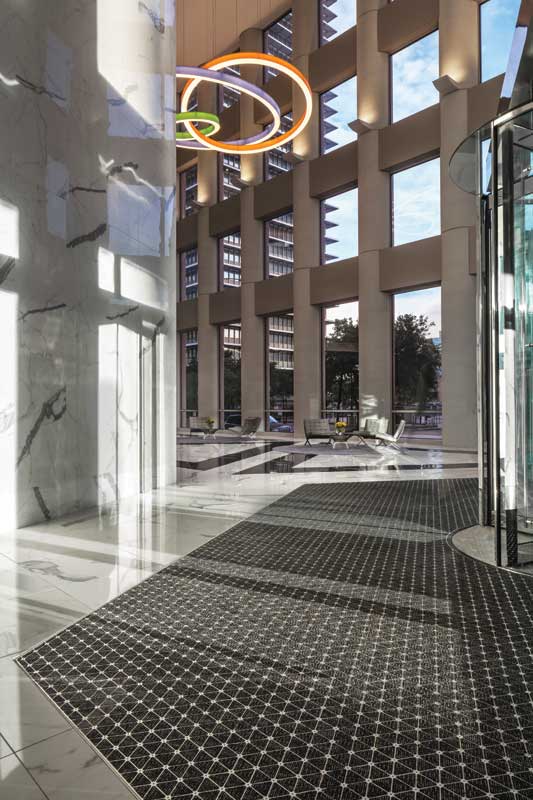 Life of entrance flooring
Carpet tiles are incredibly easy and inexpensive to replace, but as mentioned they can have short lifespans. While maintenance crews can replace damaged tiles onsite without the need to close off the area, replacement tiles are not always the perfect matches to the rest of the carpet, which may become faded, worn, or stained over time.
With entrance mats and grids, facility managers benefit from architectural-grade materials that hold up under high-traffic, high-abuse applications. Most options can handle excessive rolling loads while maintaining their function and appearance. They are also better suited for entrances frequently exposed to soggy foot traffic. Metal pans or recesses in concrete floor can also be employed to trap debris—some of these systems have the ability to lock grids down with a concealed lock. Entrance flooring made from these materials has an exceptional life cycle, with some models lasting 10 to 15 years before they require replacement. Manufacturers also usually supply replacement inserts for products containing carpet or rubber if they become worn and ineffective.
Aesthetics
First impressions matter. When it is time to choose flooring for an entrance, one's choices contribute to that first or continued impression.
Carpet tiles are available in an array of colors and textures, allowing facilities plenty of options for creating an ideal entrance. Color-matching technology makes it easier than ever to select the right products to match a facility perfectly. Some manufacturers can even incorporate logos or images into the tiles for a custom look, fully integrated into a building's design.
Other entrance flooring options also offer design versatility. Entrance mats and grids come in many colors and textures to add the right aesthetic value to any building. Manufacturers offer customized entrance flooring designs as well, making it easy to integrate into other design elements. High-end models can be made from stainless steel, and some of them can even be custom-milled to create a dramatic surface pattern look.
In addition to carpet inserts, recycled rubber and poured abrasive insert options are available—some manufacturers have developed entrance mats and grids inlaid with custom, precision-cut graphics, text, or logos. The logos are incorporated into the mat material and not dyed, so they do not fade or become damaged by wear and tear.
Conclusion
Whether a facility houses high-end clients or entertains children, its entrance is guaranteed to take a beating. Investing in a flooring option delivers what owners need to create a safe, durable building, maintaining function and appearance for many years. Carpet tiles and entrance mats/grids can have plenty of benefits depending on the requirements. Considering the building type and challenges it faces every day helps one make an informed decision on the best product to use for a project.
Wade Brown, CDT, LEED AP, is the senior manager of product marketing for the entrance flooring division at Construction Specialties. He has more than 15 years of experience in the construction manufacturing industry and is a member of American Society of Interior Designers (ASID), International Interior Design Association (IIDA), and United States Green Building Council (USGBC). Brown has a degree in Architectural Technology from the Pennsylvania College of Technology. He can be reached via e-mail at wbrown@c-sgroup.com.