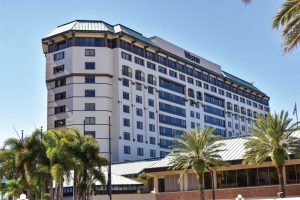 The magazine's series of sponsored e-books continues with a case study of the restoration of the building façade of the Westin Tampa Waterfront in Tampa Bay, Florida. Located on the Gulf of Mexico, the façade is often subjected to the negative effects of rain, wind, high humidity, saltwater corrosion, bright sun, and soaring temperatures. Rapid fading and chalking of painted exteriors in the area is a problem that could be expensive and time-consuming to repair, as well as cause disruption to building occupants and visitors.
When the Westin experienced interior damage due to water penetration through its brick façade, its owner/operator, HEI Hotels & Resorts, wanted to do more than improve the building's weatherproofing. The company also wanted to give the hotel a fresh, new look that would last for years. Therefore, HEI chose to recoat the Westin's brick façade and metal window profiles with an innovative, field-applied coating containing a fluoropolymer resin.
An article in our newest sponsored e-book examines how the single-component, water-based coating system helped extend the service life of the hotel's façade by 25 to 30 years, at a much lower cost than replacing the building's brick façade and window profiles or having to repaint the exterior every three to five years, which is a typical coating life cycle in Florida. It appears along with a trio of other articles from the pages of The Construction Specifier in "Protecting Façades with Architectural Coatings," a free, downloadable resource. To get your copy in either pdf or digital edition, visit www.constructionspecifier.com/ebook/apv-engineered-coatings-protecting-facades-with-architectural-coatings-e-book.