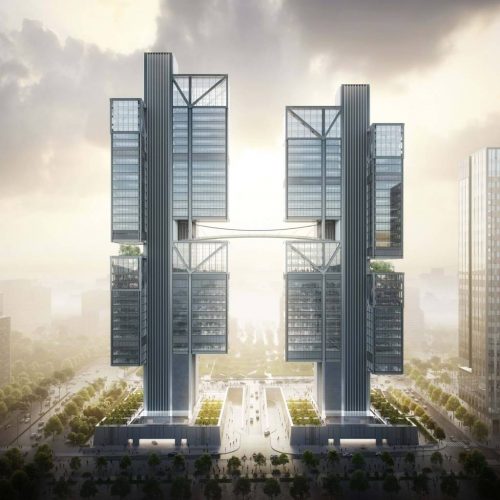 International architectural, design, and engineering firm Foster + Partners has unveiled its design of a new headquarters, located in Shenzhen, China, for technology company DJI.
Comprised of two towers, the development "defies the traditional idea of office space" in order to "form a creative community in the sky," according to Foster + Partners. The buildings combine research and development (R&D) spaces with offices and testing laboratories. The floors are arranged in floating volumes, supported by large steel mega-trusses, which project from the structure's center, creating a column-free space throughout with unique quadruple-height drone flight testing labs. A sky bridge, which will be used as a platform for showcasing drone technology, connects the two towers.
Plans for the development's ground floor include a public exhibition space, showcasing DJI's advances in technological development, as well as a theater for product launches and a variety of staff facilities, including gymnasiums and robot-fighting rings.
"Our aim is to create a unique workplace environment that embodies the spirit of invention and innovation that has allowed DJI to lead the world in robotics and technology," said Grant Brooker, head of studio with Foster + Partners.
To read more, click here.