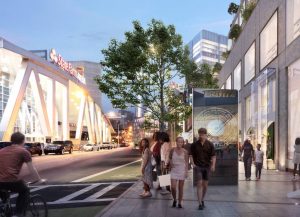 Foster + Partners revealed the master site plan proposal to stitch together the pivotal Centennial Yards site in downtown Atlanta. The project is part of a $5 billion transformation of parking lots and former railyards into an experiential and inclusive mixed-use development.
Foster + Partners is collaborating with Perkins + Will in further refining the plan that positions Centennial Yards as a leading model of urban design and placemaking.
"We are extremely excited to be part of Centennial Yards," said Armstrong Yakubu, senior partner of Foster + Partners. "We believe this project is a unique opportunity to stitch the fabric of this great city together with state-of-the-art buildings, amenities and public spaces that will transform this part of downtown Atlanta. Creating a new 20-ha (50-acre) walkable, mixed-use city center, it is designed to welcome pedestrians, bring neighborhoods together, and to be sustainable for generations. Furthering the city's wider renewal efforts, the new park adjacent to Five Points Station exemplifies our sustainable focus. We look forward to working with Centennial Yards Company on this rare opportunity to create a truly forward-looking plan for Atlanta."
The design team studied the historic city grid of the surrounding neighborhoods to create a walkable urban environment that celebrates Atlanta's outdoor lifestyle. The project is designed to be continuous with the surrounding city blocks and neighborhoods, along with responding to previous consultation exercises.
The updated plan provides increased walkability and access, and is designed to blend with adjacent communities in style and scale. The pedestrianized routes, shared surfaces, and landscaped plazas form a vibrant public realm that can accommodate a broad range of experiences and opportunities, while providing outdoor gathering spaces for all Atlanta residents.
Centennial Yards is one of the largest sports and entertainment-anchored developments in the country. The project is surrounded by the region's top attractions, including the Atlanta Hawks' State Farm Arena and Mercedes-Benz Stadium—home to the Atlanta Falcons and Atlanta United—on the east, as well as Metropolitan Atlanta Rapid Transit Authority (MARTA) stations connecting the site with the rest of the city.
By design, the plan seeks to complement these cultural magnets with a series of people-focused spaces and walkable urban blocks that can house a variety of functions, ranging from office buildings and business hotels to essential retail and residential apartments for a mix of incomes.