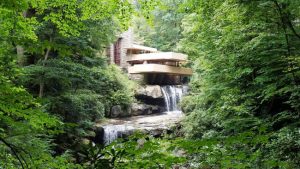 Many Frank Lloyd Wright sites will share virtual tours via their social media pages with short videos that provide interesting and informal glimpses into their design, history, and more. #WrightVirtualVisits will run until at least July 15.
This effort is a partnership among all participating sites, with leadership from the Frank Lloyd Wright Building Conservancy, the Frank Lloyd Wright Foundation, and Unity Temple Restoration Foundation.
"During this time when so many people feel disconnected from the world, we know that when people experience Frank Lloyd Wright designs, it brings them inspiration and happiness," said Jeff Goodman, vice-president of communication and partnerships at the Frank Lloyd Wright Foundation. "We hope that taking a virtual visit to any of these Wright designs around the country will bring a little joy to their day and bring them into our community that remains connected around our shared passion for beauty, architecture, nature and design."
There are currently 24 Wright Lloyd-designed sites that can be toured, including Fallingwater (Pennsylvania), Allen House (Kansas), Talisien (Wisconsin), and Unity Temple (Illinois). Most sites will post video tours every week on Thursdays.
"It is precisely at this time, when so many are shut inside, that we need to experience beauty and inspiration," said Barbara Gordon, Frank Lloyd Wright Building Conservancy executive director. "Wright's works bring people together in harmony with the natural world, reminding us that we are all connected, even when we are apart."