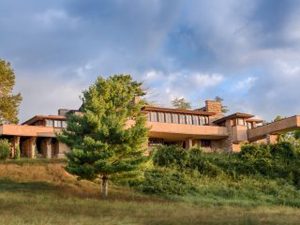 Frank Lloyd Wright's School of Architecture at Taliesin (SOAT) is closing its doors after 88 years. It will cease operations of both its campuses in Scottsdale, Arizona, and Spring Green, Wisconsin, in June after a 'gut-wrenching' decision by its governing board.
SOAT was unable to reach a financial agreement with the Frank Lloyd Wright Foundation to keep the school open.
The acclaimed architecture school was established in 1932 by famed architect Frank Lloyd Wright. The school had been integral to Wright's visionary architecture. Top architectural students from across the U.S. and the world have studied there.
SOAT has been a pillar both in the architecture world as well as Arizona and Wisconsin where Frank Lloyd Wright and his wife Olgivanna invited architecture students to live and work with them and immerse themselves in 'organic architecture.'
"The closure of the school is very emotional for our students, our faculty, and staff, and all of us who worked so hard for this one-of-a-kind institution and its important role in Frank Lloyd Wright's legacy," said Dan Schweiker, chair of the board of governors for SOAT. "We did everything possible to fight for its survival but due to other forces it was not meant to be."
There are approximately 30 students currently enrolled at the school. SOAT is working out an agreement with the Design School at Arizona State University's Herberger Institute for Design and the Arts, so its students can transfer credits and complete their degree programs.