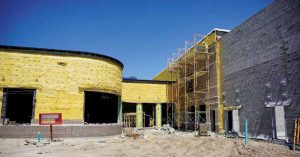 The need for energy-efficient buildings is the largest driving factor behind product innovation and building science advancements in air barrier materials. However, other equally important aspects of modern construction are sometimes overlooked by building professionals.
Manufacturers continue to improve their products to extend a building's durability and lower the costs of construction. The developments in air barrier products over the years reflect a constant demand for airtight, mechanically ventilated buildings to meet ever-changing energy codes and expectations among builders and architects for higher performing facilities. There is also pressure to find ways to design a building that could function properly in any type of climate or environment. Therefore, understanding the progression of air barrier materials will help professionals at all levels of the building design process choose the best air barrier system for their project.
In the latest edition of a series of free, downloadable e-books, an article from the pages of The Construction Specifier discusses the evolution of air barrier materials and their benefits. To get your copy of "A Guide to Moisture Management," visit www.constructionspecifier.com/ebook/georgia-pacific-a-guide-to-moisture-management-e-book.