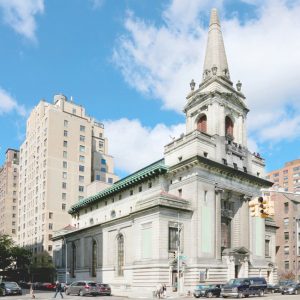 Architecture firm FXCollaborative has won approval from the New York City's Landmarks Preservation Commission (LPC) to convert the historic First Church of Christ Scientist, Manhattan, into the Children's Museum of Manhattan (CMOM). LPC unanimously voted to approve the revised plans early this month.
The plan seeks to renovate the landmark 120-year-old church designed by Carrère and Hastings and will triple the size of CMOM, reports Time Out.
The approval comes three months after an earlier presentation where LPC raised concerns about elements of the initial design, including the proportions of a proposed rooftop addition; the removal of stained glass windows, and the size of banners and signs, as per The Architect's Newspaper.
In the revised plan, the entrance changes will accommodate the necessary entry and exit flow for all visitors, not solely to comply with the Americans with Disabilities Act (ADA). They also introduced transoms over the north and south entrances to moderate height differences between the new and historic doors and reinforce hierarchy across all three entrances.
The new plan will preserve the decorative stained glass border of the east façade's main window. The arched windows will incorporate the geometry of the original muntins to recall the texture, scale, and proportion of the historic windows.
For the roof, the design reduced the mass and visibility of the addition, including the bulkheads. Symmetry is reinforced and the roof profile of the workshop/performance space recalls the historic roof monitor.