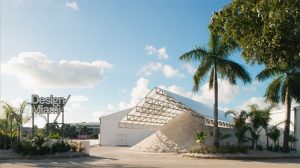 Garrett Ricciardi and Julian Rose of Formlessfinder are the recipients of the 2020 League Prize from the Architectural League of New York.
The prize was established in 1981 to recognize exemplary and provocative work by young practitioners. Open to designers 10 years or less out of school, the competition draws entries from around North America. This year's competition asked entrants to consider how notions of 'value' operate in their work. How are values mediated by the processes of design? What are the discursive contexts, forms of representation, and/or spaces of action in which these values manifest themselves?
Ricciardi and Rose founded Formlessfinder, based in Los Angeles and New York, in 2010 as "a laboratory for methodological experimentation oriented toward the introduction of moments of formlessness into architecture," as the co-founders describe it. Their work ranges from "traditional architectural representations such as models and drawings to videos, photography, structural and material tests, writings, and interviews."
Recent projects include Tent Pile, a temporary pavilion built for Design Miami consisting of a pile of sand and a cantilever aluminum roof, and ArtForum Bookstore, a bookcase-like structure made out of thousands of magazines at Dover Street Market, New York.
The five other winning firms are:
● David Eskenazi of d.esk;
● Leslie Lok and Sasa Zivkovic of HANNAH;
● Isaac Michan Daniel of Michan Architecture;
● Ivi Diamantopoulou and Jaffer Kolb of New Affiliates; and
● Luis Beltrán del Río García and Andrew Sosa Martínez of Vrtical.
Given the constraints of social engagement due to the COVID-19 pandemic, this year's League Prize program will be presented online. Winners will deliver streamed lectures followed by a live Q&A session and will create digital installations of their work, rather than the annual exhibition in the galleries of the Sheila C. Johnson Design Center at Parsons School of Design at the New School.