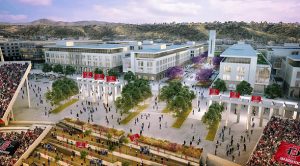 Global architecture firm Gensler has been selected as the architect for San Diego State University's (SDSU's) proposed new multi-use stadium in San Diego, California.
As proposed, the expandable 35,000-capacity stadium will support collegiate football, professional and collegiate soccer, National Collegiate Athletic Association (NCAA) championships, concerts, and other events. In keeping with the current timeline, if approved, construction is slated to begin early next year with a completion date for 2022.
"We had a very competitive process and appreciate the experienced professionals and new ideas that Gensler brings to the table," said J.D. Wicker, SDSU director of Intercollegiate Athletics. "We have challenged Gensler to design a unique stadium that will meet the needs of the entire San Diego community and look forward to working with our entire team over the next couple of years to deliver a great stadium."
Gensler will also assist SDSU achieve its goal of Leadership in Energy and Environmental Design (LEED) Silver designation.
The design and planning for the proposed stadium is taking place concurrent with the university's negotiations with the City of San Diego to purchase the land, and the preparation of the draft environmental impact report (DEIR) for the complete SDSU Mission Valley development.
In addition to the new stadium, SDSU Mission Valley will be the location of a campus expansion, which will include a world-class university research and innovation district, a community river park, and housing.