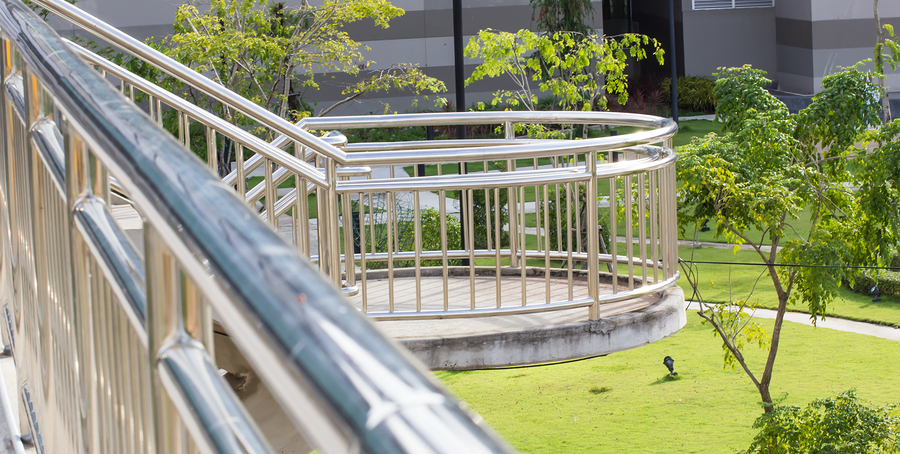 by Ronald J. Ray, RA, CCS, CCCA, CSI, AIA
Stainless steel is often used as a railing material, especially where corrosion resistance is a major concern. Stainless steel tube and pipe railings are not extruded as some would think, but rather are fabricated from stainless steel sheet material complying with ASTM A480/A480M, Standard Specification for General Requirements for Flat-Rolled Stainless and Heat-resisting Steel Plate, Sheet, and Strip. Within ASTM A480/A480M are established finishes for stainless steel sheet and plate, with the most common architectural finishes being Nos. 4, 6, 7, and 8. Stainless steel sheet used in the fabrication of tubes and pipes for railings typically has a No. 2D−Cold-rolled Dull Finish or a No. 2B−Cold-rolled Bright Finish.
ASTM A554, Standard Specification for Welded Stainless Steel Mechanical Tubing, specifies the process of transforming stainless steel sheet material into tubes and pipes. This process changes the finish of the sheet to the extent that it is no longer a No. 2D or No. 2B finish once the tube or pipe is formed. As the product is no longer in sheet form, the finish designations included in ASTM A480/A480M are no longer applicable. ASTM A554 does not include requirements for surface finishes beyond what is achieved from the fabrication of the sheet material into a tube or pipe profile. Consequently, the railing fabricator finishes the pipes or tubes to the desired finish.
ASTM A270/A270M, Standard Specification for Seamless and Welded Austenitic and Ferritic/Austenitic Stainless Steel Sanitary Tubing, includes four numeric finish designations applicable to tubing used in sanitary service. While these finish designations could be applied to architectural railing applications, the stainless steel railing industry appears to be unaware of the ASTM A270/A270M finishes.
SSINA finishes
The Specialty Steel Industry of North America (SSINA) lists architectural finishes for stainless steel tubes and pipes, and includes photographs of each finish on their website. Finishes common to railings, as defined by the SSINA handbook, are described in the following paragraphs.
180 grit polish
This is the most common polished finish. Rougher grits (80 and 120 grit) are also available. Polishing can be specified on the inside or outside diameter or on both. Seamless, welded, or cold-drawn products can be polished. Polishing is available on round, square, and rectangular tubing. On round products, it is typically circumferential, but some polishers can longitudinally polish, as is done for other shapes.
Finer polished finishes (240, 280, and 320 grit)
These finishes are produced for applications where a smoother finish is desired for aesthetic reasons and where improved corrosion resistance or cleanability is needed. Higher grit numbers produce smoother, finer, and more reflective finishes.
Buffed finishes
These finishes are achieved by mechanically polishing (typically to 320 grit) and then buffing. As with the No. 7 and No. 8 sheet finishes, different levels of buffing are available and the visibility of residual polishing lines can vary. Buffed finishes are used for aesthetic applications and where a higher level of corrosion resistance or cleanability is desired. A visual standard is suggested if the application is aesthetic, and a maximum surface roughness should be specified if the goal is improved corrosion resistance or cleanability. The remnants of polishing lines are only visible on close examination.
Conclusion
The availability and relative use of the various finishes should be verified before making a selection. If a directional finish is specified, the transition at intersections must be considered and a mockup should be required to demonstrate the quality of workmanship at transitions.
As stainless steel tube and pipe finishes can vary significantly between fabricators, finish samples should be required using the actual profile of the railing. This is particularly critical where stainless steel railings might be specified in different specification sections for different components of a project.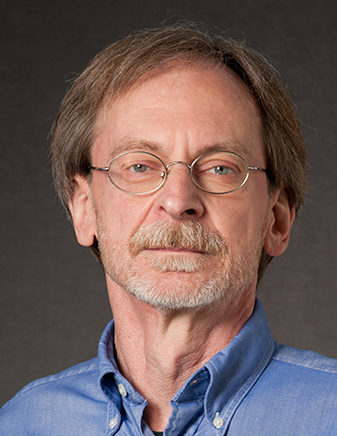 Ronald J. Ray, RA, CCS, CCCA. CSI, AIA, is an architectural specification writer with ARCOM with 38 years of experience. Previously, he was in private practice as an independent specification consultant for architectural, structural engineering, and civil engineering firms, producing more than 420 project manuals for a wide range of project types. While employed at different architectural firms, Ray was a project manager, project architect, and designer, specializing in the design of churches, schools, and professional sports facilities. During his 31 years of membership in CSI, he has served on the board for two different chapters, chaired committees, and written bylaws for both chapters. Ray can be reached at rray@arcomnet.com.