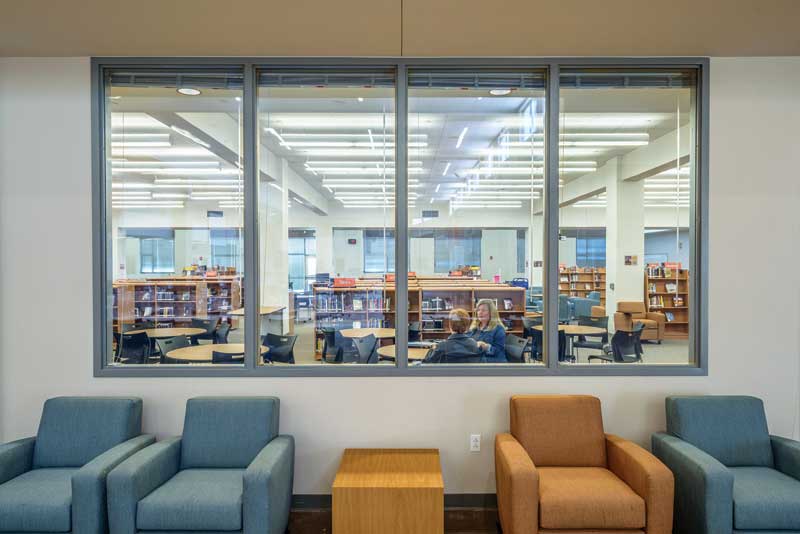 by Patricia Hernandez
Safety has always played a key role in the design of schools, but the necessity is more heightened than ever today. High-profile issues like school shootings add to long-held safety concerns, the most notable being fire. The National Fire Protection Association (NFPA) estimates there were roughly 4000 K–12 school building fires annually between 2007 and 2011. (For more, consult National Fire Protection Association's [NFPA's] September 2013 publication,"Structure Fires in Educational Properties Fact Sheet.") Yet, at the same time, barricading children in solid-walled, stuffy environments is not an ideal solution. Not only is daylighting essential for reducing energy costs, but several studies have also shown it improves occupant health and performance.
For schools in rural areas, the concern is compounded by the fact emergency response times may be lengthier, putting pressure on educators to protect children during fires or acts of violence. Glass products are keeping pace with these dangers to ensure security does not sacrifice design.
Exterior and interior glass, both as walls and in interior doors, is a key design component for creating flexible learning spaces and allowing ample natural light penetration into and throughout the building. Fortunately, there are a handful of glass solutions offering various levels of protection against fire and, in some cases, intruders, without sacrificing design, views, or performance.
Fire-rated glass options
Fire-rated glass offers architects the opportunity to meet design goals while still ensuring certain levels of safety and meeting building and fire code requirements. As technologies have advanced, opportunities to use glass in a wider variety of sizes and applications have also expanded.
The highly flexible product range allows nearly unlimited multifunctional and aesthetic possibilities, perfectly blending with adjacent non-fire glass types. Fire-resistant glass can be used for overhead glazing, windows, sidelites, butt-joint solutions, fire-rated doors, partition walls, glass floors, or curtain walls.
Several glass types fall into the fire-rated safety glass category.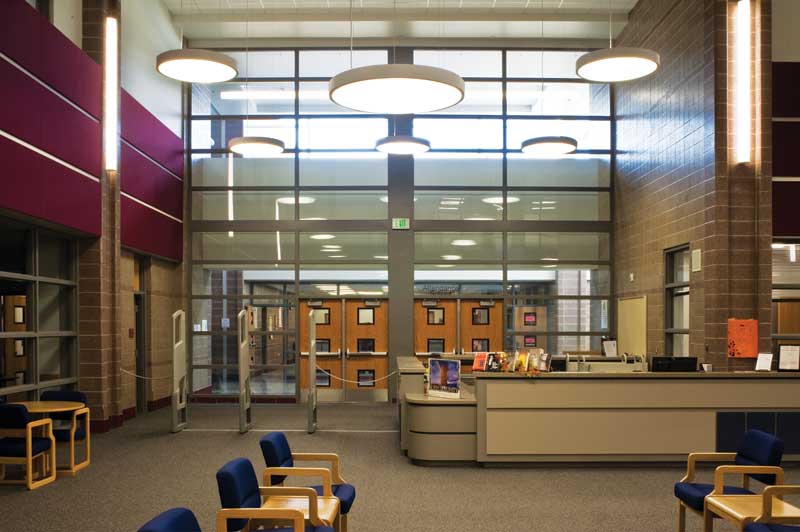 Specialty tempered glass
Specialty tempered glass is processed by controlled thermal treatments to increase its strength compared to normal (annealed) glass. Tempering creates balanced internal stresses that cause the glass, when broken upon impact, to crumble into small granular chunks instead of splintering into jagged shards. These products are made of thermally tempered safety glass to withstand fire exposure without the transmission of fire, and prevent the passage of smoke, flames, and hot gases. Typical 6-mm (¼-in.) thick specialty tempered glass has a fire rating of 20 minutes, is listed for a 542-J (400 ft-lb) impact rating by the Consumer Product Safety Commission (CPSC) 16 CFR 1201 Category II, Safety Standard for Architectural Glazing Materials, and can be used as a safety glazing material specifically in door applications per International Building Code (IBC) 2012.
Ceramic glass
Ceramic glass is a transparent sheet of ceramic material in a glass matrix.
It has a significantly higher softening temperature than regular glass and is therefore capable of withstanding a much longer exposure to fire conditions without slumping and creating unwanted openings. The ceramic has a high resistance to thermal shock because of an extremely low coefficient of thermal expansion. Unlike glass, this product cannot be tempered, so it is unable to meet impact resistance requirements on its own, restricting its use in some areas.
It can, however, be modified with a surface-applied impact safety film or laminated to meet the highest impact rating requirements of 542 J per CPSC 16 CFR 1201 Category II, which represents the vast majority of its modern use
in buildings.