by Taylor Aikin, AIA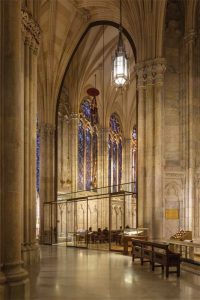 For architects and building teams working in historic contexts, structural glass systems can offer compelling design solutions that can improve functionality while simultaneously highlighting and contrasting with the spaces' original fabric and character. However, challenges with the integration of glass systems that relate to design development, specification, fabrication, and installation do raise a host of considerations that may not be immediately apparent. Examining a recent renovation program at a New York City landmark, the St. Patrick's Cathedral, provides a useful case study of effective design strategies for melding modern glass expression with historic preservation and also renovation scopes. Exploring these solutions would offer insight into the benefits and the challenges that are inherent in this approach.
Led by Murphy Burnham & Buttrick Architects (MBB), the conservation and renovation of the St. Patrick's Cathedral was a multifaceted undertaking spanning 10 years and $175 million of construction and improvements on a campus occupying an entire city block. Designed by American architect James Renwick, Jr., in the Gothic Revival style and constructed between 1858 and 1888, the cathedral is a designated city, state, and federal landmark and one of New York's most-visited destinations. The architecture and preservation team at MBB helped develop a comprehensive project approach focused on stabilizing the cathedral structure and also providing a better experience for clergy, visitors, and worshippers—all while preserving the character of this sacred and iconic building.
In addition to completing exacting preservation work—including conservation of exterior and interior stone, wood, and plaster, as well as stabilization and conservation of stained glass—MBB worked with a multidisciplinary team to incorporate several new glass elements. Along with Silman and Eckersley O'Callaghan Engineers, construction manager Structure Tone, and two glass fabricators, the design team developed two major insertions:
sliding glass doors for the main entry allowing the church to keep its bronze portals open without loss of conditioned air; and
an 82-m2 (880-sf), 14-m (48-ft) tall glass wall providing acoustic isolation for the Lady Chapel worship space.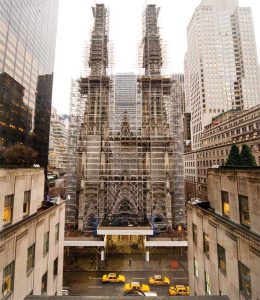 Contemporary approach to preservation and facility goals
When designing for historic preservation work, why would an architect consider the use of modern glass systems? In the case of the St. Patrick's Cathedral renovation, glass structures presented a means of turning several of the cathedral's facility operations challenges into opportunities for improving functionality, increasing community connections, and enhancing appreciation of an iconic landmark. Just as importantly, glass both maximizes transparency and minimizes the impact of interventions on the original historic fabric. For the Archdiocese of New York's leadership, using glass in the St. Patrick's Cathedral renovation presented an opportunity to develop architectural elements that also improve the building's expression of the congregation's core values: openness, a welcoming atmosphere, and a sense of sanctuary and refuge.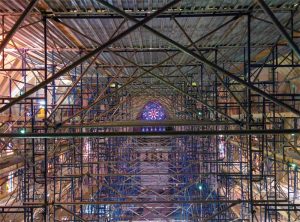 The cathedral entrance, for example, is symbolic of those principles. Throwing open the large, 4082-kg (9000-lb) bronze doors serves as a welcoming gesture, signifying to visitors and passersby alike this centrally located complex is open and available as a physical and spiritual resource. However, keeping the doors open would compromise energy efficiency. The archdiocese leaders sought a solution with a level of functionality that was also in keeping with how the building is used.
Since the scope of restoration work included significant upgrades to St. Patrick Cathedral's mechanical plant, MBB suggested creating sliding glass pocket doors that could be hidden, but would also create a transparent barrier affording views down the nave when in the closed position. This minimal glass entry creates a sustainable and sensitive solution, allowing the original doors to remain open year round while minimizing heat and air-conditioning loss. The discreet glass panels also work to emphasize the original architecture.
Given the historical importance and complexity of the project, a sensitive touch was necessary. The motorized glass pocket doors sit on a series of bearings allowing them to slide into the wall with the push of a button. This sliding-door hardware system is engineered for large structural glass panels. To create a pocket for the doors to slide into the existing structure, the project team shifted the interior wall by 101 mm (4 in.) and removed some of the stone entirely.