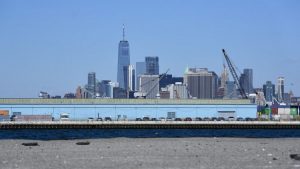 Skanska USA has been selected as the construction manager for the port upgrade of the South Brooklyn Marine Terminal (SBMT), a key infrastructure for the construction of the Empire and Beacon Wind offshore wind projects in Long Island, New York.
The selection is made by the petroleum refining company, Equinor, and the oil and gas company, bp. The SBMT project will transform the site into an industry-leading offshore wind port, to serve as a base for the Empire and Beacon Wind projects, which will bring 3.3 GW of offshore wind power into New York, powering around 2 million homes in the state.
Skanska will provide pre-construction services and will work to enhance supplier diversity and increase economic activity in the area. Once completed, the terminal will be one of the largest offshore wind hubs in the nation, and will serve as a national model for creating an offshore wind energy hub. Construction is expected to begin in 2024.
The announcement of Skanska USA's selection was made at Equinor's supply chain expo, which aimed to connect local and regional manufacturers with the offshore wind industry in New York.
"Skanska is delighted to partner with Equinor and bp on this cutting-edge project that will provide clean energy to millions of New Yorkers and reinforces our commitment to build for a better society. Through the strength of our building and civil construction operations here in New York City, this project will play a vital role in the community, providing a significant source of sustainable and renewable energy, while enhancing supplier diversity and increasing economic activity," says Justin Post, senior vice president, Skanska USA.