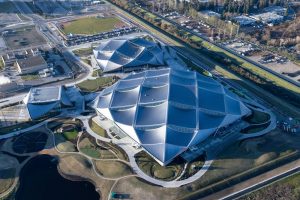 Google's Bay View campus in Mountain View, California, features one of North America's largest building-integrated photovoltaics (BIPV), 90,000 silver solar panels layered over one another onto the building's canopy-style roof, to reach the company goal of running on carbon-free energy entirely by 2030.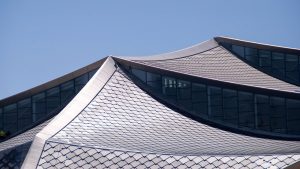 These BIPV promise 7,000,000 W (7 MW) of installed renewable power, responsible for almost 40 percent of the energy needs of the campus. BIG-Bjarke Ingels Group and Heatherwick Studio engaged with people inside Google in an immersive R&D process, which considered multiple design options for the campus. The result was a design modeled after low-lying hangar infrastructure, featuring two buildings spanning over 37,161 m2 and 55,742 m2 (400,000 and 600,000 sf), spread over two floors and double height reaching a max of 39.6 m (130 ft).
Given the large canopy-like roof design, rectangular solar panels were out of the equation, according to Asim Tahir, district & renewable energy lead for Google's real estate developments.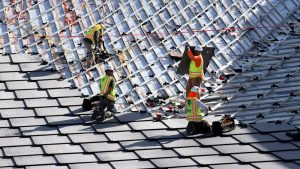 The alternative solution used panels layered over one another, resembling scaly dragon skin. The panel is made from a special textured glass, which is prismatic in nature. Due to their prism-like and textured quality, the panels can capture more sunlight from different angles and retain more of it than flat solar panels. This means they can also enable electricity generation to spread out over the day, rather than peak at the same time daily. The texture also gives a unique sheen to the panels, earning them the name of 'dragonscale.'