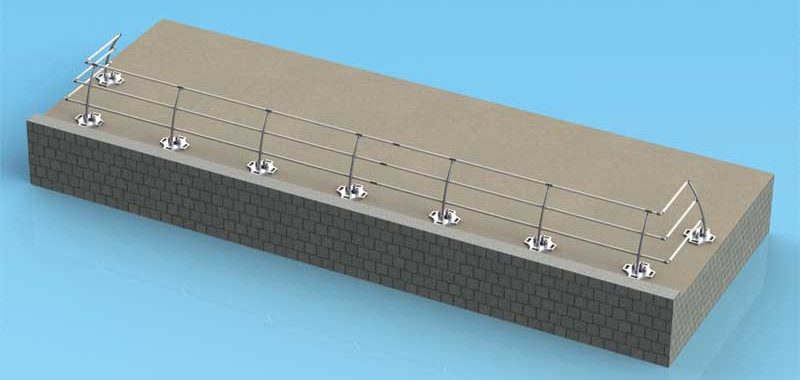 Conclusion
Even with OSHA's tightened standards, falls continue to be one of the leading causes of fatalities in construction. Thus, every stakeholder in the industry—including contractors, workers, engineers, architects, specification writers, and safety specialists—must devise ways to keep fall-related hazards at a minimum.
Non-penetrating guardrails are a strong contender among the many possible solutions to fall-related fatalities. When using this method, type should be chosen according to the project and the specific circumstances, and the system's capabilities and limitations should be carefully weighed.
SPECIFICATION GUIDELINES
The following list shows factors to be included in non-penetrating guardrail system specifications, with examples in parentheses to give readers a clearer idea of how such specifications can be written.

1. Reference standards.
What rail system should be used, and what general standards does it comply with? (System shall have top and mid-rail in accordance with OSHA 29 CFR 1910.23 and OSHA 29CFR 1926.502.)

2. Structural load.
What is the minimum structural load required, and to what components does it apply? This specification may also reference OSHA standards. (90.7-kg [200-lb] minimum in any direction for all components in accordance with OSHA 1910.23, Guarding Floor and Wall Openings and Holes, and OSHA 1926.502.)

3. Rail height.
What is the vertical height of the rails to be used in the project? (Top rail 1066 mm [42 in.]; mid-rail 533 mm. [21 in.].)

4. Rail material and construction.
What is the rail made of? How should it be constructed? (41 mm [1 5/8 in.] outside diameter [O.D.] hot-rolled, pickled electric weld tubing free of sharp edges or snag points.)

5. Support base material and construction.
What is the base support system made of? How should it be constructed? (Class 30 gray iron material cast with four receiver posts. Base weight 49 kg [108 lb] and 21.8 kg [48 lb]/sf. Rubber pads for base bottoms available upon request.)

6. Receiver post.
What type of latching system attaches the rail to the base? How should it be constructed? (Shall have a positive locking system with slots allowing rails to be mounted in any direction. Receiver posts shall have drain hole.)

7. Hardware.
What components—other than the rails and bases—are included, and what are their specifications? (Securing pins shall be 1010 carbon steel, zinc-plated and yellow chromate-dipped. Pins shall consist of collared pin and lanyard connecting to a lynch pin.)

8. Finishes.
What finish (including color and type) is required for rails and bases? (Powder-coat painted finish of safety yellow or a custom color; galvanized finish or painted-over galvanized finish in special circumstances, though this is rare.)

9. Surface protection pads.
It is recommended pads (i.e. ethylene propylene diene monomer [EDPM] rubber pads or built-up roofing [BUR] pads) be included under bases to protect against damage from base edges. (The pads provide an added layer of protection for the roof surface from the ballasted bases, which are generally heavy. These help keep the bases in place and protect the roof from friction of the bases moving or tipping when the rail sections are engaged with a load or when the bases are being repositioned; also to protect bases from standing water accumulating under the base.)

In most cases, guardrails comprise only a short descriptive paragraph of specifications. It is hoped emphasizing the importance of choosing the right guardrail and demonstrating what a full specifications guide for guardrails can look like will facilitate creation of a separate section for guardrails, to be used in future specifications.

Where to write specifications
If a full section is to be dedicated to guardrail specifications, where should it be placed? Should it be where metal products are usually included, or where roof accessories are specified?

Non-penetrating guardrails are made of metal or PVC, so it might seem the most logical course of action is to place them under Division 05. On the other hand, they are temporary implements on roofs, so placing them under Division 11 or Division 07 (specifically, 07 72 00) is a sound idea, too.

The railings referred to in this article can be used either as temporary railings (i.e. for occasional use while working on a roof, or for protecting openings) or—more commonly—permanently placed railings for industry applications. Railings used during construction could meet the requirements of Division 01 at the discretion of the contractor.

Ultimately, where the specifications should be written depends on how the architect feels the product has been used on the project. This is why it is important to ensure adequate communication between the parties involved—this way, misunderstandings and, more importantly, safety hazards to workers can be avoided or minimized.
Andrew J. Miller is the founder and president of Dakota Safety, which specializes in passive fall protection systems and safety products. He is an active member of the Minneapolis St. Paul Chapter of CSI and has more than 30 years of experience in construction product representation, sales, and marketing. Miller can be reached via e-mail at andrew.miller@dakotasafety.com.