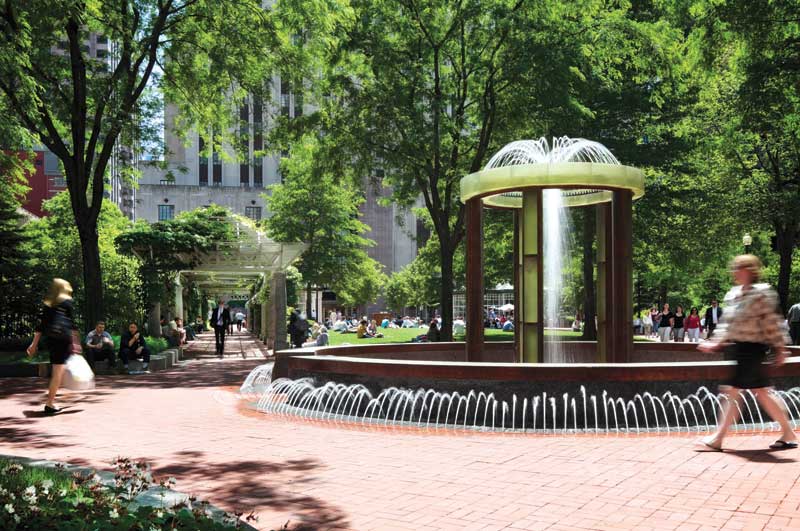 Placemaking and extending structure use
Parking structures have traditionally played a transient role, enabling tenants and visitors to get to their desired location. Yet, architects and planners are starting to reimagine how the space can create additional experiences for visitors and better serve customer needs.
A popular way of extending the use of parking structures today is finding ways to integrate green spaces. One of the best examples of this can be found in Boston at the Parksmart-certified Garage at Post Office Square. In the 1980s, civic corporation Friends of Post Office Square reimagined what was a poorly maintained parking garage on city land. The organization commissioned a new below-ground parking facility with a 0.7-ha (1.7-acre) park above it. Since then, the garage and park have been thoughtfully maintained to best serve the community.
"We are a parking garage, that is where we make our money, but that does not mean we are exempt from caring about trying to make our property's footprint as small as possible," said Pam Messenger, general manager at Friends of Post Office Square.
The park vision called for a new downtown green space open to the public, recognizing the area's architectural heritage and providing welcome relief and contrast to the surrounding dense urban fabric. The park's most prominent feature is an open lawn surrounded by large deciduous trees.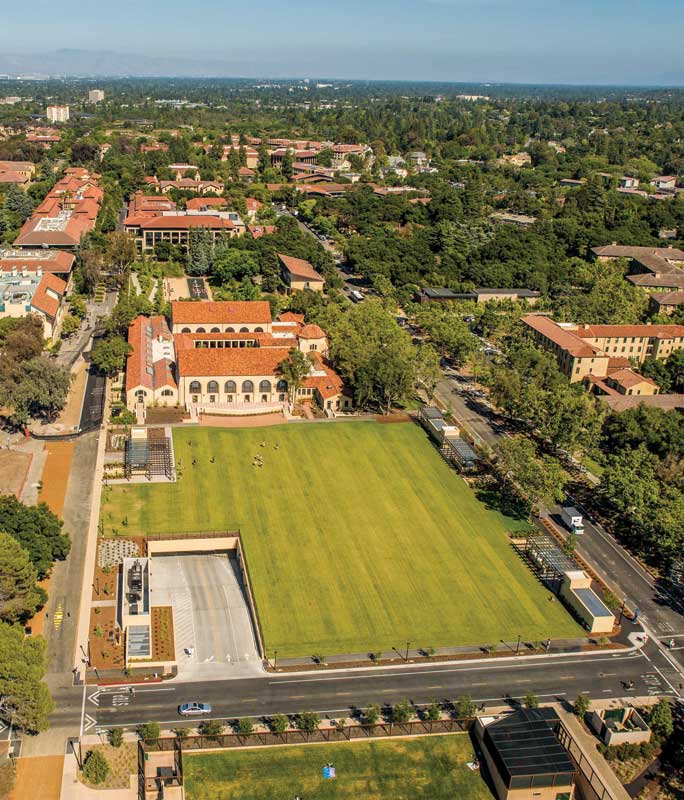 Keeping pace
With a growing appetite for electric vehicles (EVs), customers are expecting parking garages to support the new wave of automotive technology, including EV charging stations. A popular way of extending the use of parking structures today is finding ways to integrate green spaces.
InsideEVs tracks all plug-in EV sales and deliveries in the United States and said in a report there was a 45 percent increase in EV sales from July 2016 to June 2017.5 The EV market is no longer niche and parking garage owners see it as an opportunity to better demonstrate a commitment to cleaner fuel types and to support the latest mobility trends. EV charging stations are therefore becoming the norm.
Providing EV stations contributes to the overall value of these spaces and is a part of meeting the needs of visitors and tenants.
Stanford University in Stanford, California, continues to densify to meet the needs of a growing student population. The university balanced its need for parking while preserving green space by building a new structure under Roble Field, an open grass space for students to gather and enjoy recreational sports.
The growth of EVs factored into the initial design, which was completed in February 2017. The five-level, below-grade structure—currently pursuing Parksmart certification—provides 52 EV charging stations on the first level. In anticipation of future demand, the second and fifth levels are prepared for 84 charging stations. The structure received a design Award of Excellence from IPMI this year.
The U.S. Department of Energy's (DOE's) Clean Cities coalition published a guide to help project teams evaluate and plan for EV charging infrastructure.6 Incentives are often available to help reduce the costs associated with installing charging stations. The guide outlines some key considerations when it comes to installing the infrastructure and includes ventilation and accessibility to electrical services. Depending on the speed of charging and number of charging ports desired, a larger electrical service and additional conduit may be required.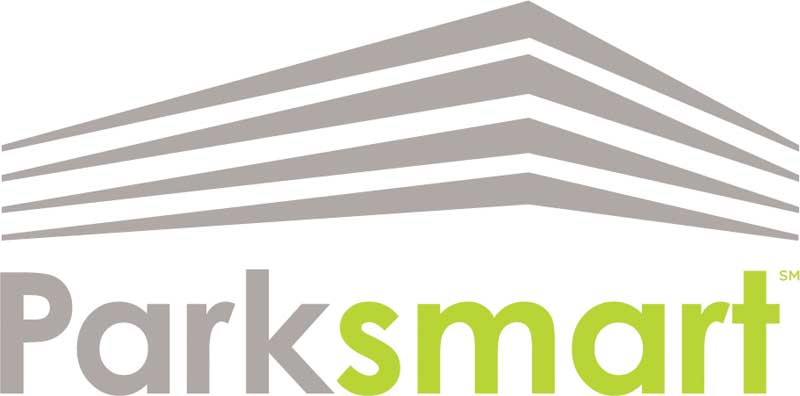 An electrical contractor will play a major role in the installation and planning for a garage being equipped with EV infrastructure, addressing any necessary permitting, coordinating inspections, and working with utilities in case upgrades are necessary. According to the DOE, a full transition to EVs could help reduce GHG emissions by more than 60 percent and provides an opportunity for planners and building owners to contribute to those efforts.
Some cities, including New York City, Denver, and Salt Lake City, are beginning to create "EV ready" building codes requiring building capacity and conduit for future EV charging in both new construction and major renovations.7
EVs are just one example of how technology is playing a bigger role in parking design and operation. Connectivity inside garages is an ongoing discussion as planners find ways to support Wi-Fi functionality, lighting sensors, ventilation, and wayfinding systems. The rollout of 5G connectivity promises to be a game changer. In a constantly connected world, parking garages are exploring ways to keep pace with industry changes and customer expectations.
Programs such as Parksmart are helping building owners and managers take a fresh look at the parking asset and its operations to support these emerging trends, and to understand how the structure can play a role in encouraging sustainable mobility. How people access buildings of all types is changing rapidly, and today's parking assets must evolve in order to keep up with demands.
Sarah Stanley is media and communications manager for the U.S. Green Building Council (USGBC). She manages the development and execution of communications activities for the council and its programs. Prior to joining USGBC, Stanley spent nearly 10 years in Los Angeles supporting marketing and outreach efforts for nonprofit, corporate, and consumer brands. She has coordinated local, regional, and national programs that have focused on issues relating to the environment, nutrition, and healthy living. Stanley graduated from Miami University in Ohio with a Bachelor of Arts in Strategic Communications and she received a Master of Arts in Strategic Public Relations from University of Southern California, Annenberg School of Journalism. She can be reached at sstanley@usgbc.org.