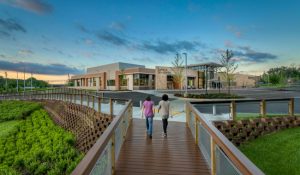 Grimm + Parker Architects (Washington D.C., Maryland, Virginia) have won the 'Business Leader Award' in the 2020 Best of Green Schools Awards from the Center for Green Schools at the U.S. Green Building Council (USGBC), in collaboration with the Green Schools National Network (GSNN).
The awards recognize people, schools, campuses, and organizations making significant strides in school sustainability. The awards elevate the importance of sustainability in schools through grassroots organization, cross-sector collaboration, and hands-on experiential learning.
The efforts of each awardee is critical to the development of green schools and contributes to helping reduce environmental impacts and costs, improve health and performance, and increase sustainability literacy that is shaping the next generation of leaders, USGBC said.
A large percentage of Grimm + Parker Leadership in Energy and Environmental Design (LEED) projects are K-12 public schools, where project managers go beyond greening the physical building, and also engage school leaders on how to operate and maintain high-performance structures and how to integrate the school site into school curriculum.
"This year's awardees are the best of the best among education, environmental and business leaders," said Anisa Heming, director, Center for Green Schools at USGBC. "Their commitment to breaking out of the status quo and charting new ground make them excellent examples for all those working to make our schools sustainable, healthy places where students learn to lead the way forward and protect our environment for future generations."
The firm will be recognized next month during the Green Schools Awards luncheon at the Green Schools Conference and Expo in Portland, Oregon.