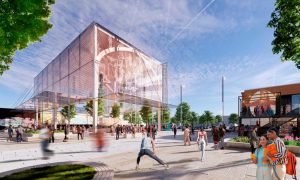 Recently, the City of Chicago broke ground on a mixed-use, community-focused development in the Englewood neighborhood, starting the first phase with the adaptive reuse of a historic firehouse, a newly constructed community space, and multiple site improvements for better connectivity and pedestrian access across the site.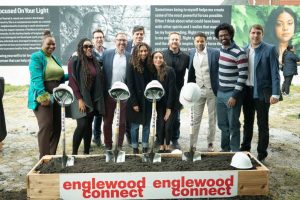 The designers on the project are Skidmore, Owings & Merrill (SOM) with TnS Studio as the interior designer, and McLaurin Development Partners, and Farpoint Development are the developers. The project, Englewood Connect, will expand upon recent neighborhood investments under Chicago city's INVEST South/West—a community development initiative to marshal the resources of multiple city departments, community organizations, corporate and philanthropic partners and build 12 commercial corridors within 10 South and West Side community areas. Positioned on the Halsted Ave corridor, Englewood Connect is to be built on a 0.8-ha (two-acre) site.
In designing the project, the team led comprehensive public engagement sessions in collaboration with the local government office Alderman Stephanie Coleman, including community roundtables, walking tours, and pop-up events. The process led to a program focused on economic advancement of residents over the long term, with resources for education, entrepreneurship, commerce, and leisure.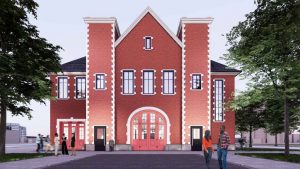 As a part of the project, a vacant landmark known as the "castle" firehouse station will be renovated and reinterpreted as a culinary center, with multi-use spaces for the community. The 1929, Tudor-style historic structure will be fully restored, preserving its glazed brick interiors and stone fireplace. Outfitted with a commercial kitchen on the ground floor, the surrounding spaces are designed for flexibility and to accommodate large-scale events and activities.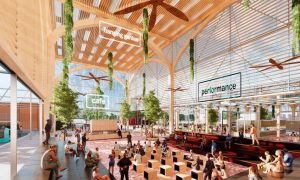 Facing the fire station will be the 'Englewood Living Room,' a pavilion matching the height and scale of the historic building. With operable doors and windows, it will be open to the public year-round
It is envisioned as a space for community-led markets, co-working, exhibition, a place where the community can engage and interact. The building will follow the design ethos of the entire site, employing materials considering performance, efficiency, sustainability, and maintenance.
Future phases of the project include a business incubator, a market hall, hoop houses for urban farming, and multiple public exterior spaces—all part of a comprehensive master plan focused around food and the connections to the existing infrastructure.
Other collaborators on the project include landscaper Omni Ecosystems; engineering firms dbHMS, Engage Civil Engineering, and Rubinos & Mesia Engineers, Inc.; construction firm Bowa Construction; Gwen Grossman Lighting Design for lighting; and consulting firms Environmental Design International and Environmental Protection Industries.