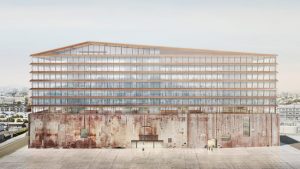 Power Station, designed by Herzog & de Meuron (HdM), has broken ground as an extension of the Dogpatch neighborhood in San Francisco. It will create new homes, honor the city's industrial past, and reconnect the community with the San Francisco Bay waterfront.
Power Station will be a majority-residential, mixed-use, and mixed-income neighborhood delivering approximately 2600 new homes. Anchored by a historic 91-m (300-ft) stack and a block-long former industrial workhorse called Station A, the built-out neighborhood will feature 3 ha (7 acre) of park and open space and  a boutique hotel adapted from a former steam power facility, alongside restaurants, cafés, and shops. These elements reclaim an area of the waterfront cut off from the public for nearly 165 years.
Local development team Associate Capital is reimagining the 12 ha (29 acre) of post-industrial Central Waterfront, creating new places to live, work, visit, and play. Less than 10 years after being decommissioned, this former fossil-fuel power plant—which powered much of San Francisco for more than a century—will join Pier 70, its immediate neighbor to the north, in creating a bayfront addition to the Dogpatch neighborhood.
Power Station's team leader, Enrique Landa, a partner at Associate Capital, explained the neighborhood will be built in several phases over the next two decades. Landa announced Power Station's phasing was revised to better achieve three goals: introducing more housing sooner, including 100 percent affordable housing; more space for life science uses; and the rehabilitation of Station A, one of the historic structures in the neighborhood.
Past meets future
Landa explained the original phasing plan had a single residential building with about 315 units in Phase 1. The revised first phase now has three residential buildings with more than double the amount of housing (735 units), including an affordable housing building. Two buildings are being designed by Fosters + Partners and the third by Leddy, Maytum, Stacy Architects.
"This is a once-in-a-generation opportunity to bring the best out of a neighborhood's industrial past and infuse it with what the community needs and wants in the 21st century," said Armstrong Yakubu, senior partner at Foster + Partners.
"The reinvention of Power Station will bring new life to a significant building from the city's colorful past and will anchor this area as a destination on the San Francisco waterfront," said Jason Frantzen, HdM's senior partner.
The mixed-use new neighborhood will also include 148,645 m2(1.6 million sf) of office/life science and/or laboratory space; 9290 m2 (100,000 sf) of retail; and community serving amenities. The architect of record for all the Power Station buildings to date is Adamson Associates Architects.