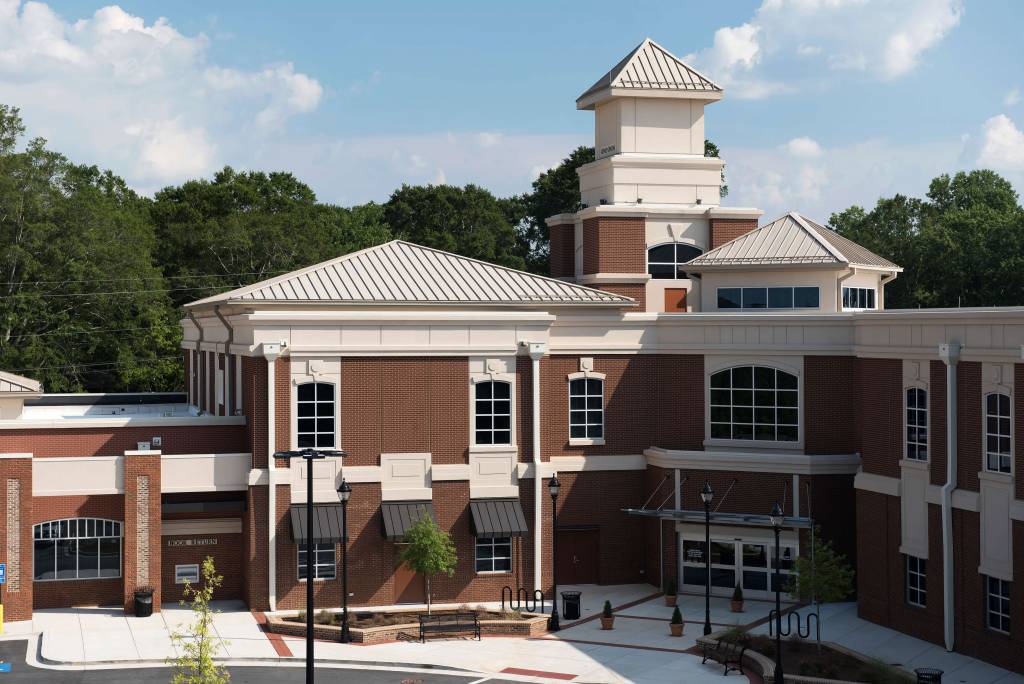 When officials in Lilburn, Ga., planned the new double-duty library and city hall building, the vision called for interior spaces providing easy access and circulation within the structure, with a shared lobby space on the first and second floor. On the exterior, the design called for steep-slope roof elements that would draw attention to certain building functions and entry locations, and metal roof panels to accentuate these spaces.
Around 929 m2 (10,000 sf) of 406-mm (6-in.) wide panels in 24-gauge steel finished in tan color were installed.
"We wanted a quality roofing product that would last a long time and meet Factory Mutual (FM) requirements. Metal gives us the ability to create visual interest while providing protection from weather," said Lance Davis, AIA, lead architect on the project.
The building also includes a clock tower, elevated around 24 m (80 ft) in the air, with a pitch of 8:12. The height and pitch of the tower presented challenges for the installation crew. All roof work had to be performed from a 36.5-m (120-ft) mechanical lift.
"The clock tower roof assembly was completed on the ground, but we could not have installed panels on ground because of the rigging needed to hoist it into position would have required us to cut holes in the panels. So, we took panels up two at a time, installed them, then came down for more panels. We had to hand-seam the clock tower roof because of the extreme roof pitch and weight of the seamer. It was not a large amount of metal on the tower but it took a few days to install with all the up-and-down," said Ryan Rebstock, regional operations manager for Nations Roof.
"The rest of the roof on the building was not as steep, but seaming was done by hand because the crew preferred to do it that way. By the time the crew became used to seaming by hand on the steep sections, they developed a nice rhythm so they continued that way."