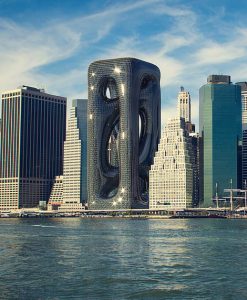 Hayri Atak Architectural Design Studio, based in Istanbul, Turkey, has revealed designs for Sarcostyle Tower, Manhattan, New York City. The building's amorphous shaping and different statics stand out from similar structures on the city's infamous skyline.
The literal translation of 'sarcostlye' is "one of many contractile filaments that make up a striated muscle fiber." The 210-m (688-ft), 75,000-m² (807,293-sf) tower shares similar characteristics.
"This structure, which we put forward as a concept project in Manhattan, looks quite striking with the difference created by both its form and materials on the silhouette. It was a work we had planned to design for a long time," the firm said.
When the building is examined in general, the first effect is that it creates an image in the mind that is tangent to all of the other neighboring structures. However, it does not exactly resemble any of them. It is a first step project that feeds ideas with concepts such as anatomy and cell and it reveals its basis clearly with its amorphous shaping and its completely different statics from similar structures.
"In the design of the 'Sarcostyle Tower,' Hayri Atak Architectural Design Studio has intertwined elements of the architecture into a sinuously-shaped structure that seemingly coils in on itself," Designboom reports. "This creates a series of voids that lend the project a sense of ghostly transparency, and offer different interpretations depending on where the building is viewed from. In this way, 'Sarcostyle Tower' demonstrates ever-changing perspectives that catch the eye and engage with their surroundings."