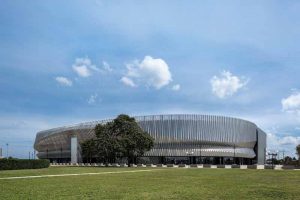 by Lee Magin
In the world of sports arenas, conference centers, and other large-scale, high-use spaces, designing with end-user experience in mind is everything. Incorporating innovation into these entertainment hubs is crucial in order to meet the demands of the large and diverse groups of people frequenting them with the high expectation of being wowed by stunning looks and cutting-edge technological features.
When retrofitting existing arenas, the challenge of designing with innovation often means rethinking old structural parts into new elements that make impactful architectural statements. A ceiling, for example, can be so much more than just the overlooked space overhead. The right ceiling design can transform an otherwise flat, functional surface into something sculptural and stylish, helping elevate a facility to new levels of visual appeal. In the case of the recently redesigned Nassau Veterans Memorial Coliseum in Uniondale, New York, one of the most visually striking elements of its new look is a one-of-a-kind, design-forward ceiling combining clean lines, modern aesthetics, and subtle wayfinding cues.
Nassau Coliseum opened in 1972 and has since hosted entertainers like Elvis Presley, Led Zeppelin, and Madonna. It has also served as home ice for the New York Islanders, home court for the New York Nets, and home base for dozens of other pro sporting events. After 40-plus years of steady use as a concert and sports venue, however, the aging building showed a need for major upgrades to its construction, aesthetics, and amenities to meet the demands of modern events. A plan to demolish and rebuild the 38,648-m2 (416,000-sf) arena, which rests on the site of a former Air Force base, was rejected by voters in a 2011 referendum, so the facility's management pursued a redesign of the existing structure.
The 18-month, $165-million renovation project overhauled the coliseum's former spartan looks with a sophisticated sense of style and state-of-the-art upgrades giving event attendees a fresh arena experience. Construction ran from August 2015 to April 2017, with the planning phase spanning two years leading up to the renovation.