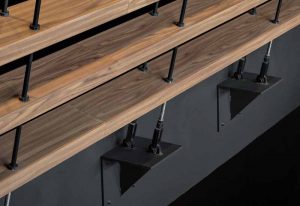 The 'vertical ceiling'
By following the ceiling around the curving concourse and tracing the gently undulating ridge line above, one will eventually arrive at a stairwell and escalator. Above the stairwell hangs one of the signature elements of the space: a decorative shelf wall, or 'vertical ceiling,' which continues the beam's visual lines from one level of the concourse to another.
The configuration of the wall required a different approach from the rest of the ceiling.
"We had to design, test, and engineer all the calculations to make sure the shelf beams were stable and would hold up," Pope explained.
Hanging at a 15-degree angle, the shelf wall is constructed of the same wood-finished aluminum beams that comprise the rest of the ceiling. Each beam is connected to visible black steel rods providing structural support. The 12 steel brackets on which the shelf wall is mounted (six on the bottom and six on the top) had to be custom designed and engineered and are each 12.7 mm (½ in.) thick.
The result is a striking visual anchor piece greeting and guiding event attendees as they descend the stairs or escalator.
Innovation and admiration
The success of the redesign transformed a familiar but outdated venue into a destination able to deliver first-class programming for guests and artists alike. The new ceiling is one piece of that success. Behind the scenes, the planning and engineering teams mitigated significant challenges in the installation process. However, what end users see is a new design paying homage to the coliseum's history by preserving the interior architecture while injecting a new sense of energy and bringing a beloved old building back to life.
Lee Magin is a mechanical, electrical, and plumbing (MEP) integration specialist and project drawing team lead for Hunter Douglas Ceilings and Walls. He graduated from Southern Polytechnic State University with a bachelor's degree in architecture and is currently pursuing another in mechanical engineering. Magin was raised in the construction industry and has actively participated in building design for 15 years. He can be reached via e-mail at lee.magin@hunterdouglas.com.