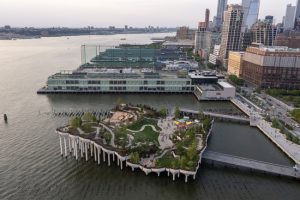 Little Island, the new 1-ha (2.4-acre) urban park and performance venue situated above the Hudson River in New York City is open. Owned by the Hudson River Park and designed by Heatherwick Studio and the New York-based landscape architecture firm MNLA, the opening of Little Island is the culmination of more than eight years of planning, development, and construction.
The design team joined forces to deliver a unique 'floating' urban oasis using 3D design and prefabrication techniques, that includes a 687-seat amphitheater and features nearly 400 different species of trees, shrubs, grasses, and perennials.
Heatherwick Studio was lead designers for the project, developing the idea from initial concept through to the pier's public opening. They were responsible for the overall design, from the form, topography, and landscape through to the interior spaces, materiality, furniture, and details.
"The project began when we were asked to conceive of a sculptural structure to go on a design for a newly enlarged piece of the Hudson River Park promenade. The project was interesting, but we saw the opportunity to create a more engaging experience for New Yorkers and to build on the city's heritage of inventing exciting new public spaces," said Thomas Heatherwick, Heatherwick Studio founder. "Instead, we had the idea to make an entirely new type of pier as a lush rectangular garden island, connected to the land with generous gang-planks as bridges, aligned to the street grid of New York."
As well as making multiple spaces for different activities and performances, this new public space could also take advantage of the water to create a more meaningful threshold allowing visitors to feel as they are having a break from the hecticness of the city.
Typically pier structures are flat, but Heatherwick Studio saw this as an opportunity to lift the surface to create a topography that would make a more dynamic social experience for visitors and give sightlines for performing spaces and lookout points over the river and back toward the city. Also, typically, piers are composed of structural piles going down into the riverbed with slabs covering them to make a surface. However, the studio was inspired by these piles and the civil engineering required to build structures that are able to withstand extreme river conditions.
The vision that has been built is based on taking these piles and turning their tops into planters that fuse together to make a richly-planted undulating landscape.
MNLA collaborated with Heatherwick Studio to realize the park, its circulation system, and design performance spaces including an open plaza for recreational and educational programs, as well as leading the design of the comprehensive landscape. Using the team's 3D model, they were able to determine the layers of gravel, geofoam, and soils that make up the surficial topography.
"Little Island is a special place that affords New Yorkers the rare opportunity to experience a multisensory landscape," said Signe Nielsen, MNLA founding principal. "As one strolls through the park many destinations beckon—overlooks with unparalleled views, cultural venues with continually changing offerings, sloping lawns for picnics, and seating nooks with contemplative sights. Each of these is engulfed by a unique landscape that transitions from a rich diversity of colors and textures to open grasslands as one ascends the three hills."
Arup served as the project's engineering consultant, providing services spanning structural, mechanical, electrical, public health, and civil engineering. The team's engineers created a benchmark structural approach to build the park, harnessing 3D design and prefabrication techniques to deliver the project's unique design and ensure construction feasibility.