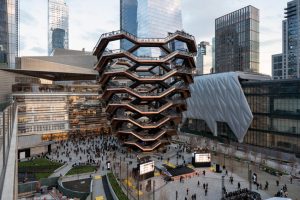 Designed by Heatherwick Studio, Vessel, the centerpiece of the Hudson Yards Public Square and Gardens in New York City, is closed to the public after a 21-year-old Texas man committed suicide by jumping off of the sculpture. This is the third suicide from the artwork in less than a year.
His death comes a few weeks after a 24-year-old woman from Brooklyn took her life by jumping off from the art piece on December 21. The first suicide at the Vessel happened last February when a 19-year-old New Jersey man jumped from the structure, the New York Times reports.
The 46-m (150-ft) structure is described as an urban landmark comprising 154 intricately-interconnecting flights of stairs, 2500 individual steps, and 80 landings. Rising from a base that is 15 m (50 ft) in diameter, Vessel offered the public a 1.6-km (1-mi) vertical climbing experience and some of the most unique views of the West Side when Hudson Yards opens in early 2019.
"A spokesperson for Related Companies, the developer of Hudson Yards, said that the structure was 'temporarily closed' and that the firm was consulting with suicide-prevention experts, including psychiatrists, about how to limit the potential for more suicides. But the chairman of the local community board said in an interview on Tuesday that a Related Companies representative had called him shortly after the suicide on Monday and had said the Vessel would stay closed 'until further notice,'" as per the New York Times.