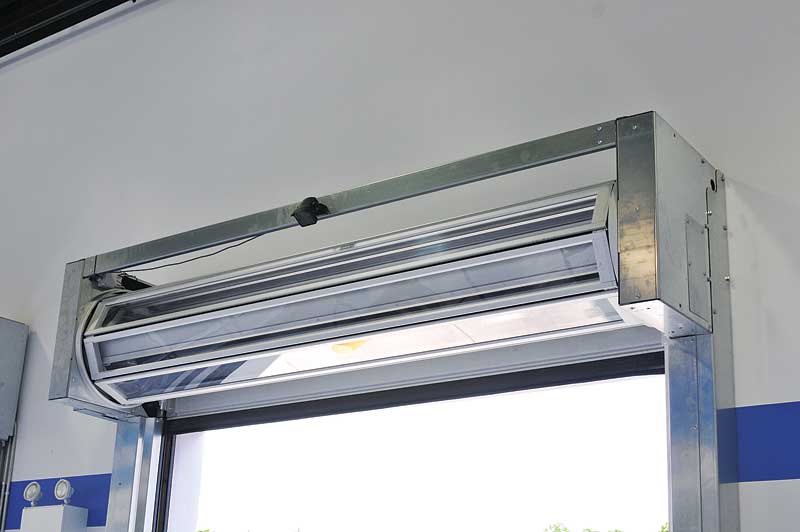 Customer service considerations
Generally, people who bring a car in for service are on a tight schedule. High-speed roll-up doors capable of operating at 1524 mm (60 in.) per second—five times faster than conventional doors—
is the first indication to customers their service needs will be taken care of efficiently. Motion sensors can activate the doors, so that when customers arrive, the sensors detect the car and begin opening the door.
As fast as these doors are, their design takes safety into consideration. People sometimes use vehicle doorways to access the building on foot, and a solid panel door operating this rapidly could be a safety hazard. Modern doors include important safety features, such as a photo eye that prevents the door from closing if someone is strolling through the opening or if a car is sitting in the way. This safety system can be backed up by a pressure-sensitive edge that causes the door to reverse instantly upon contact.
Benefits with low maintenance
Along with saving customers time, door speed also saves the door. A slow-operating door can suffer collisions from those customers in a hurry, possibly resulting in doorway downtime, and repair costs to the door and car. From the dealer's perspective, a completely disabled door will impede efficient service center operations and cause significant heating/cooling energy loss.
To address this situation, motion sensors let customers into the service center can be timed with high-speed door operation to avoid collisions altogether between car and door panel. These doors travel fast enough to be well out of the way by the time the vehicle passes the threshold. Door speed, motion system positioning, and the safety features that protect pedestrians all combine to ensure the door panel is not in the way of doorway traffic.
As mentioned, service center doors open and close dozens of times a day—how well a high-speed door is engineered contributes to maximum life and minimal maintenance. Easily accessible control boxes enable technicians to tune door performance for smooth starts and stops. The electronics inside these boxes allow for easy diagnosis and have cycle counters to track maintenance intervals.
Installation
One of the prime benefits of high-speed doors is they require very little room around the dealership wall. The side guides fit inside the doorway rather than around it. Depending on the height of the door, less than 0.6 m (2 ft) of headroom is necessary for the rolled up panels.
The same door controls that enable easy maintenance also provide simple installation. Since electronics replace many mechanical parts, this design helps to minimize involving a man-lift during installation.
The compact, water/weather-resistant National Electrical Manufacturers Association (NEMA) Type 4 case housing the controls takes up spare room on the wall. The electronic controls enable door adjustments to take place at floor level rather than using a man lift. In the controller case, an intelligent processor monitors and controls power consumption. The controller performs self-diagnosis for continual trouble-shooting.
With the wave of auto dealership renovations, management's concern is the project takes minimal time to minimize disruption to the business. A standard rigid panel roll-up door installation takes no more than eight hours with a two-person crew, including wiring the door to make it operational.
Conclusion
An auto dealership is more than a place for buying cars—it plays a vital role in the business plan of an industry that is a huge contributor to the nation's economy, making up more than three percent of the GDP and employing 1.7 million workers. With much of the bricks and mortar portion of retail succumbing to the clicks of the Internet, cars are still sold in buildings—and these buildings play a crucial role in the overall marketing, image, and success of dealerships. The use of high-speed doors can be a crucial part of this.
Michael F. Watkins is vice president of marketing at Rytec High Performance Doors, a manufacturer of high-speed doors for industrial, commercial, food and beverage, and controlled-temperature environments. Watkins has consulted to the industrial and durable goods industry and has held management positions in marketing, business development, and new product development. He can be reached by e-mail at mwatkins@rytecdoors.com.